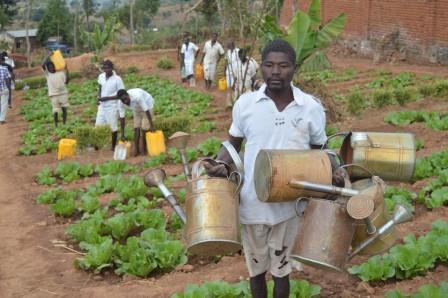 Some prisons in southern African nation of Malawi have devised strategies to address some of the challenges inmates face. Malawi News Agency reporter BRIAN ITAI writes
Last year when Malawi faced El Nino-induced hunger which affected 6.5 million people, inmates in prisons were going for days without food.
A survey by Medicins San Frontiers (MSF) revealed that as a food crisis unfolded in Malawi, prisons were failing to purchase simple food stuffs such as maize flour and beans.
MSF singled out Mulanje as one of the worst-hit penal institutions in Malawi where prisoners were malnourished and looked like living skeletons.
"Prisoners were seen crawling on the ground to collect scraps of food that were thrown over the wall to feed them. Skeletal people were in such a state of malnutrition they looked like ''victims in a concentration camp," reads a statement from MSF part.
The screening of 357 inmates at the small prison in Mulanje district revealed that 14% of all prisoners were severely malnourished.
"Many of the prisoners in Mulanje displaying signs of malnutrition were HIV positive or had tuberculosis.
"Having these conditions increases a person's risk of becoming malnourished – and without adequate nutrition, the immune systems of HIV and TB patients will be weakened further," said MSF deputy head of mission in Malawi Nicolette Jackson in a statement.
Poor funding
While around $6.9-million was needed each year to feed inmates, prisons in Malawi were critically underfunded.
During 2016 financial year, the prisons received a measly $2 500 to feed 14 000 prisoners in the country's 28 jails.
Besides hunger, HIV epidemic was also haunting prisoners. Out of the 1 913 prisoners at Chichiri Prison in Blantyre, 600 were HIV positive
New initiatives
Eston Damiano from Mponela in Dowa District is into his sixth year of his ten-year jail term at Ntchisi Prison in central Malawi. He was convicted of stealing cattle in July 2011.
So far, his tenancy in prison appears to borne a desired and positive impact on his life.
Damiano and his friends have found their stay in prison productive, mainly due to the agricultural activities the prison engages them in.
This has helped in reshaping the inmates' outlook and perception on life. Their reformation process has been a fruitful journey that has empowered them with new life skills they never had before.
"When I first came here, I could not even manage a vegetable garden or engage in any farming activity. But today, I am in charge of the prison garden together with five colleagues.
"We are very proud of our contribution here because it is this very food we produce that forms part of the prison diet," said Damiano while watering vegetables together with his friends.
He vowed to engage in full scale farming once he gets out of prison.
"I intend to fully utilize the farming skills and knowledge I have acquired from here. I do not want to get on the wrong side of the law again," he said.
Food production
Ntchisi Prison and Byazi Prison in Dowa are among the few reformatory facilities in the country practicing both rain fed and irrigation farming in the country, albeit at small scale.
For instance, Ntchisi Prison has a total of 12 hectares of arable land for both crop and livestock production.
Nine hectares is allocated for growing maize, soya and vegetables while the rest is for rearing ducks, chickens, rabbits and goats. They also have two ponds for fish production.
Officer-in-Charge for Ntchisi Prison Superintendent Ben Mthulama said during a visit to the prison that owing to their farming activities, the diet and health status for prisoners at the facility is one of the best in the country.
"Most facilities in the country fall short of fulfilling the government requirement of providing three meals a day because of resource constraints. But here, that is not the case.
In the morning, prisoners are served porridge from Soya, which we produce ourselves and have adequate meals for their lunch and supper," Mthulama boasted.
He said they are still making efforts to increase land under cultivation by subleasing an extra four hectares because they have difficulties in cultivating in the available land, which is on a hilly terrain.
The prison, which accommodates a maximum of 380 prisoners, requires 2000 bags to feed its inmates throughout the year.
"In the 2016/17 farming season, the Prison Department gave us a target to produce 1600 bags after they provided us with farm inputs like fertilizer. We are hopeful that we will reach this target and even beat it," he said.
For the inmates, it is a must within the prison cells if they refuse to participate in the farming activities.
"We make it very clear to them that taking part in farming is mandatory because the purpose is to make the prison self-sustainable in terms of food. It is also part of their reformation because we want to create better citizens out of theme," Mthulama said.
Byazi Prison is another correction facility practicing farming in order to sustain itself. The facility is a juvenile centre, keeping young offenders below 22 years old.
Officer-in-charge Inspector Rodwell Mpangaza said the facility requires 750 bags of maize annually to feed its maximum capacity of 150 inmates, which is often difficult to reach.
But in the just ending season, production has trebled.
"We have 1820 bags from the rain fed field and 394 bags from the irrigated field from a total land of 18 hectares. This has been achieved with the help of 112 bags of fertilizer we received from prison department," Mpangaza said.
Their vegetable garden is also producing in abundance. They have plants like rape and Chinese leaves, onions, spinach, egg plants, tomatoes mustard and cabbage. They are also keeping 150 fingerings of Chambo (tilapia) in their fish pond and also practicing piggery and at present, they have 22 pigs.
But Mpangaza believes they could better in agricultural production if they were given enough resources.
"Prisons have the capacity in contributing to the country's food basket and feed a much larger population. What we need is an upgrade to mechanized farming.
There are times when we produce surplus and share with other institutions like Kachere Juvenile Centre in Lilongwe, Ntchisi and Dowa district hospitals too," he said.
Right to food
The Civil Society Agriculture Network (CISANET) is one of the organizations advocating for the right to food.
The organization is running a project called "Civil society policy and advocacy towards right to food in Malawi." It is being implemented under the United Nations window to develop the right to food bill.
Development of the bill in Malawi is in progress and it has engaged a number of stakeholders like the department of nutrition and parliamentary committees on nutrition, food security and agriculture.
CISANET executive director Pamela Kuwali said her organization is pushing for the bill to be tabled in parliamentary as soon as possible.
The bill intends to empower vulnerable populations like prisoners to enjoy their right to food irrespective of their status and where they are, more so when they can produce the food themselves.
"Prisoners have the right to food. If authorities cannot manage to provide them all the three meals in a day, then they should be empowered to produce it themselves like is the case with other prisons," Kuwali said
As demonstrated by Ntchisi and Byazi Prisons, this is possible and a step in the right direction towards promoting the right to food especially for prisoners.