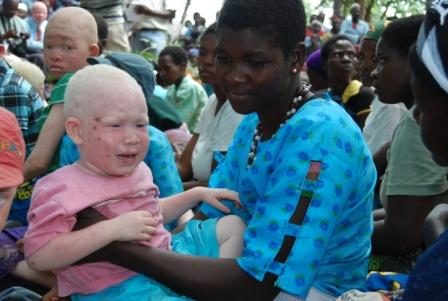 BLANTYRE, Malawi  – A promise by authorities in Malawi made early this year to enroll pupils with albinism in boarding schools remains unfulfilled.
Malawi President Peter Mutharika's chief political advisor Dr Hetherwick Ntaba, in a statement issued in May this year promised that pupils with albinism will be placed in safe (boarding) schools.
The failure to fulfill the promise means either government has backtracked on the strategy of sending pupils to boarding schools or simply lied for the sake of convenience when it faced pressure from local and international critics at the height of albino killings.
Many pupils with albinism have been negatively affected by the government's naked lie as they have dropped out of schools for the fear of abduction.
"We believed and trusted that the government would find my child a place at a boarding school, but up to this day that promise has not been fulfilled. Maybe it was just a lie," said 43-year-old Amidu Mwenye whose niece is a pupil with albinism at one of the schools in Chikweo in Machinga.
According to Amidu, on a daily basis he escorts his niece to and from school just to ensure that her security is guaranteed.
"My niece was once abducted and it was only by the grace that she managed to flee from her abductors at night," he said.
He said following the ordeal her niece underwent, there is now way she can let her to walk to school alone.
Amidu's niece is not the only pupil with albinism in Malawi who is failing to attend school for fear of her security. There are many others who after trusting that they will be enrolled in safe schools waited for months in vain.
Lilongwe-based Tabitta Osten Billy bemoans the same challenge of not knowing what to do with her child with albinism. She has withdrawn her daughter from a local public school.
"My daughter, five-year old Chimwemwe was withdrawn from school in the last term of 2015/16 academic -calendar on security grounds, a development that has affected her education.
"We withdrew her from primary school because we do not trust anyone," Tabitta said adding: "what we have done is to re-enroll her at Tiyanjane Nursery School."
According to Tabitta while incidences of albino abductions are now on the decrease, they still do not want to take the risks by letting their daughter to be walking to school.
She said the verbal assault Chimwemwe suffered in April this year remains unforgettable.
In a story corroborated by her husband, (Osten Billy) the little girl once suffered verbal abuse from a 17-year-old teenager named Jacqueline Chinere.
Despite reporting the issue to Area 36 Police Unit in Malawi capital, Lilongwe in April this year there is no progress on the case.
When pressed why they are leaving the abuser to be walking around scot-free, the family said they were told that the issue was referred to Lilongwe Police Station, Area 3.
Tabitta and her husband say circumstances surrounding the delay of justice on case have baffled them since the incident took place.
"We have consulted bodies to seek redress, but in vein," she explained.
Commenting on the issue, Lilongwe Police Public Relations Officer Kingsley Dandaula said, everything was in the hands of the office of the Director of Public Prosecutions.
"We transferred all the cases on abductions, assaults and killings of people with albinism to the Central Region Police, who in turn moved them to the Director of Public Prosecutions," explained Dandaula.
He pointed out that the accused, Jacqueline Chinere 17, was arrested on allegations of verbally assaulting a girl with albinism. We released her on police bail waiting for trial in court," he explained.
Malawi's Information Minister Malison Ndau said in an interview that despite the delay all the cases would go for trial as part of the fight against abuse of people with albinism.
Killings
Armed with machetes, knives and axes, criminal gangs nicknamed 'albino hunters' early this year struck fear into albinos by abducting and killing them in broad daylight and at night.
The once-peaceful Southern African nation of Malawi was an epicentre of albino abductions and killings in the region.
According to government statistics, over 18 persons with albinism were murdered while 69 criminal offences were committed against albinos.
The root of such murders is entrenched beliefs in witchcraft. A report by Amnesty International (AI) confirmed that a surge in killings was a result of the belief that body parts of albinos have the magical potency for wealth and success enhancement.
According to the report titled: "We are not animals to be hunted or sold: Violence and discrimination against people with albinism in Malawi", the killings continue because of the superstition that the bones of people with albinism have gold and potent magical powers.
"Their bones are believed to be sold to magicians in Malawi and Mozambique for use in charms in the belief that they bring wealth and good luck. The macabre trade is also fuelled by a belief that bones of people with albinism contain gold," reads the report in part.
Interventions
In its bid to crackdown on the albino killings, Malawi amended its Anatomy Act which now states that any person being found with the human body parts shall commit an offence and shall be liable to life imprisonment.
Government also banned foreign witchdoctors from plying their trade in Malawi besides intensifying community policing areas.