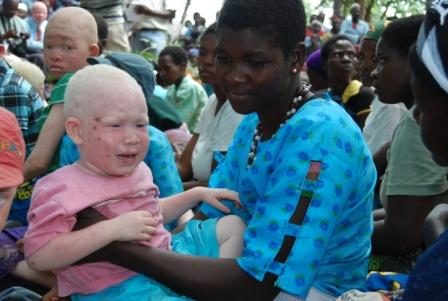 Grief engulfed Mlonda Village in southern Malawi's tea growing district of Thyolo on Tuesday, Jan 10 when the villagers learnt with shock the gruesome murder of a 17-year albino, Sunganani Madalitso Pensulo.
It all started when a local businessman Willard Mayikolo enticed the unsuspecting Pensulo with biscuits and juice.
Without knowing the sinister agenda behind the good gesture, Pensulo followed Mayikolo into the house.
According to the police, when Pensulo was eating the biscuit and drinking the juice, Mayikolo came from behind and strangled him with a rope before hitting him with a machete.
"People around the area heard the cries and went to the chief who ordered that the door be broken and the body of Pensulo was found in a pool of blood. Mayikolo had run away," explains a statement from Thyolo Police.
Relatives of the deceased razed down property of Mayikolo including his houses.
"I know my relative has been killed just because he was an albino. This superstition that body parts of people with albinism is what is fuelling such murders," said Ganizani Lumpha, a relation to Pensulo.
The murder of Pensulo has brought the number of albinos killed in Malawi to 19.
 Condemnation
Amnesty International (AI) has described the killing of Pensulo as a reflection of past policing and criminal justice failures
"Malawian authorities must promptly and thoroughly investigate the horrific killing of [Sunganani] Madalitso Pensulo, and take immediate steps to address the poor policing and failures in the criminal justice system which have led to a climate of impunity for crimes against people with albinism," said Amnesty International's Regional Director for Southern Africa, Deprose Muchena.
He urged the police to step up their efforts and promptly bring the suspected perpetrator, who is known by the Mlonda Village community, before a competent court of law in a fair trial.
"This latest killing highlights the urgent need for Malawian authorities to ensure an effective criminal justice system to bring suspected perpetrators of past related crimes  to justice. They must ensure a coordinated security strategy that protects all people with albinism in Malawi, and put an end to their abduction and killing," Muchena added.
Poor policing
For sometime critics have been criticizing the police in Malawi for their failure to bring to justice albino killers.
Some of the critics are people with albinism who survived attacks.
One of them is 52-year-old Charles Chidambukira Ndau who was abducted but was rescued by well-wishers.
On  February 6th last year, Ndau was locked in a room of a certain shop owner at Lizulu Trading Centre in Ntcheu.
"I went there to buy iron sheets and I found the owner assisting another customer. I waited. When it was my turn, I produced money amounting to K103, 000 (about $145) for the purchase of the sheets. After he received my money, I saw him coming out of the counter and went straight to the entrance of the shop and closed the doors," Ndau told Malawi News Agency.
"He started accusing me of stealing his money through magic (Chitaka). He said that the last time I visited his shop on 16th January, some of his money disappeared. He claimed I was the one responsible," he said.
The shop-owner then rounded up Ndau, tied his hands and locked him in a room.
Ndau realized he was abducted because he was a person with albinism.
Fortunately for him, he managed to untie his hands and immediately telephoned his son.
It was the phone call that saved Ndau as his son Emmanuel mobilised some friends broke into the shop.
"We found my father locked in another room in the shop," said Emmanuel.
The biggest frustration is that up to this day, the shop owner is a free person.
"How can someone who abducts a person with albinism walk free and continue to go about his business? There is foul play here and the police are not helping us," complained one resident of Lizulu.
Ntcheu Police spokesperson Gift Matewere said told Malawi News Agency that they were aware of the case but they did not handle it.
He said although the abductor is a Malawian, his shop is on the Mozambican side of the Malawi-Mozambique border.
"If the place of occurrence of an incident is in a particular country, the case is handled there and it was the same with this one."
Ndau, a school teacher in Ntcheu, said the ordeal he underwent continues to haunt him.
Superstitions
Armed with machetes, knives and axes, criminal gangs nicknamed 'albino hunters' continue to strike fear into persons with albinism by abducting and killing them.
So far 19 persons with albinism have been murdered while about 100 criminal offences have been committed against albinos.
The root of such murders is entrenched beliefs in witchcraft.
A report by Amnesty International (AI) confirmed what Malawians already know – a surge in killings is a result of the belief that body parts of albinos have the magical potency for wealth and success enhancement.
According to AI report titled: "We are not animals to be hunted or sold: Violence and discrimination against people with albinism in Malawi", the killings continue because of the superstition that the bones of people with albinism have gold and potent magical powers.
"Their bones are believed to be sold to magicians in Malawi and Mozambique for use in charms in the belief that they bring wealth and good luck. The macabre trade is also fuelled by a belief that bones of people with albinism contain gold," reads the report in part.
Superstition in Malawi has created a fertile ground for tricksters masquerading as witchdoctors who entice people into believing that the easiest route to success and prosperity is through the use of magic.
 Failed strategies
The police were supposed to be at the centre of cracking down on the killings but Amnesty International alleged that the law enforcers lacked the adequate training and skills to investigate such crimes.
The report also raised concerns over the police officers' ability to take human rights abuses endured by people with albinism seriously.
"Some police officers carry the same prejudices against people with albinism that exists within the wider Malawian society," the report said.
Attempt by the government and some concerned citizens to ban witchdoctors also hit a snag.
Another strategy government promised to implement was to enroll pupils with albinism in boarding schools .
Malawi President Peter Mutharika's chief political advisor Dr Hetherwick Ntaba, in a statement issued in May last year promised that pupils with albinism will be placed in safe (boarding) schools.
To date, that strategy remains unimplemented.
Many pupils with albinism have been negatively affected by the government's unfulfilled promise as they have dropped out of schools for the fear of abduction.
Tangible solutions
Many persons with albinism have devised a feasible to ensure their security. The strategy involves being in company with close relatives and friends, as opposed to being one their own when doing things.
In some communities, villagers have formed community policing groups which are ensuring that people with albinism are offered security.
On their part, the courts have started meting out tough penalties to albino murderers. A shinning example being the High Court Judge in Mzuzu which  handed down life sentence to Samson Kaumba for attempting to kill Morton Juma in a ritual killing.