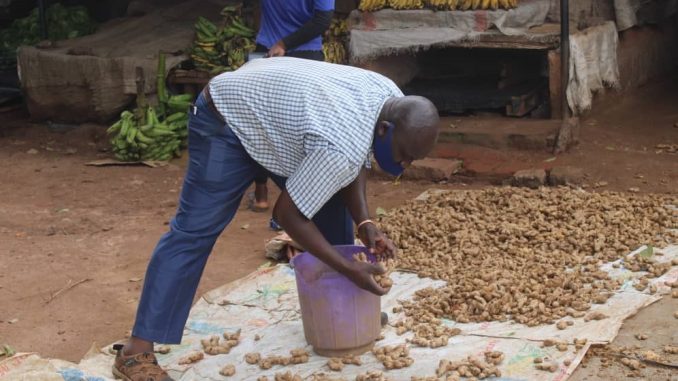 With over 680 dead due to COVID-19 and over 23,000 cases confirmed by January 30, this year in Malawi, the consumption of herbal concoctions in on the rise. But a medical expert has warned that the over-use of herbs may result is damaging kidneys and livers. IREEN KAYIRA of Malawi News Agency writes.
The second wave of Covid-19 has hit Malawi hard as numbers of people contracting the disease keep rising at an alarming rate.
As of January 30, 2021, total confirmed cases had reached 23,497 and the number of death had reached at 687.
Every day, the country records at least 10 deaths and the deaths include those that are as young as 20 years of age which is contrary to the first wave where health experts used to say those that are old were most prone to the disease.
As Covid-19 is taking lives, many Malawians have desperately resorted to making herbal concoctions as home remedies which they believe deal with the virus.
A random visit to most households in one residential area in Malawi capital Lilongwe found that most households are making these concoctions.
Ethel Mpopo, a lady who tested positive for Covid-19, attributes her healing to concoctions.
She narrates that a few weeks ago she had a dry cough, sore throat and fever as such she decided to take a test for Covid-19 and tested positive.
"I was frightened knowing how deadly the disease is, so I went on self-isolation to avoid infecting others as advised by the medical officials. My friends advised me to make some concoctions to speed up the healing process," Mpopo said.
She added that she would make ginger, garlic, lemon juice to drink every day while in isolation which after a few days she noticed some changes and the fever was gone.
"Till today, I have never stopped making these concoctions I make sure that my household does not run out of it," Mpopo disclosed confidently.
However, in his address on January 20, 2021 Presidential Task Force on Covid 19 Co- Chairperson, Dr John Phuka said Malawians should avoid consumptions of herbal concoctions that contain a mix of chemicals like alkaloids.
"These herbs stress important organs like the liver and the kidneys as well as increase demand of sugar or disputing sugar control.
"The stress on your system is dangerous as organ failure resulting from these stresses may lead to death," he explained.
Phuka advises Malawians to eat balanced die food as well as maintaining good rehydration by drinking water.
He said this allows the body to focus on the fight and clearing the virus from the body with minimal disruption.
He said people needed to report early for good treatment as some are seeking treatment while in a severe state.
One health expert, Dorothy Ngoma said while herbs have been used in the communities for a long time what was important was to use them in moderation.
"This time of COVID -19, people are over-consuming the herbal concoctions as they are mixing so many types of herbs. Some may indeed affect the liver and the kidneys," Ngoma noted.
Government interventions
Malawi leader Lazarus Chakwera says the country has secured AstraZeneca Covid vaccine to be administered from March this year.
"Through the Covax [Covid Vaccines Global Access] facility, we have finally secured doses of the AstraZeneca vaccine to give as many citizens as possible immunity against Covid……starting with 20 percent of the [19 million] population, which will prioritise frontline workers, the elderly, and those with underlying conditions," he said in a media briefing on Sunday.
On January 17, the government closed all schools in Malawi as a means of curbing the spread of COVID-19.
Malawi has US$23 million for the clusters that were established to combat the pandemic. Additional reporting by CSJ