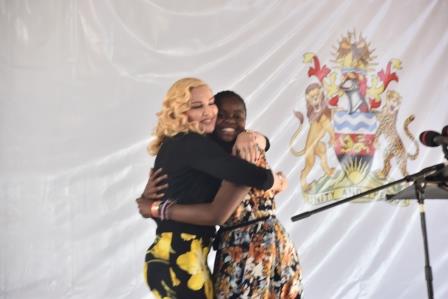 BBLANTYRE, Malawi- Branding herself as a gallant freedom fighter and feminist who never gives up, international pop star Madonna has urged Malawians to fight with determination in uplifting lives of children.
According to Madonna, she fights legal battles sometimes with court appeals to adopt children from Malawi.
Madonna made the revelation when she, alongside President Peter Mutharika, officially opened a paediatric clinic which her charity Raising Malawi has constructed in the southern African nation.
Contrary to her critics' sentiments, that she bulldozes government officials in her adoptions, Madonna revealed that it was not easy for her to adopt children from Malawi.
She narrated how she struggled to adopt Mercy James as the High Court of Malawi initially rebuffed her application as she was divorced.
"It was not an easy battle….The judge refused me because I was recently divorced. We hired lawyers, went to the Supreme Court. But I never gave up, I never backed down," she said.
Madonna added: "I fought for Mercy and won. We fought for this hospital and won. Love conquers all….Never give up on your dreams. If you want something, the universe will conspire that you get it," she said.
Named after her adopted daughter from Malawi – Mercy James Institute for Paediatric Surgery and Intensive Care- is located at Queen Elizabeth Central Hospital in the country's second city of Blantyre.
Madonna said the new medical facility was not just about healing but also "about about empowerment."
Calling Malawi as her second home that has enriched her so much, Madonna said previously she never imagined that she would have six children four of whom would be from Africa.
In his speech, [Malawi leader Peter] Mutharika praised Madonna as a loving mother with who is showing a loving spirit for children in Malawi.
The Malawi leader called the paediatric clinic as a precious gift for Malawi from Madonna, which "will save the lives of many children."
"With this facility operational, 700 surgeries will be conducted every year," Mutharika explained.
Adoptions
Madonna has since 2006 been adopting children from Malawi, the first one being 11-year-old David Banda who was adopted when he was a year old.
She then adopted 11-year old Mercy James in 2009 when she was aged 3.
Early this year Madonna adopted four-year-old twins Stella and Esther [pronounced as Estere in Malawi local language].
Apart from the four adopted children from Malawi, Madonna also has children namely Lourdes aged 20, with her ex Carlos Leon and Rocco Ritchie aged 16 with her ex-husband Guy Ritchie.
The Material Girl once said that Malawi had enriched her family beyond her imagination.
Criticisms
Madonna's relationship with Malawi has not always been rosy as at she has faced a barrage of criticisms from various quarters over the way she adopts orphans.
Authorities in Malawi in 2013 slammed her of inflating her financial contributions and demanding unreasonable special treatment during her visits.
Former president Joyce Banda had no kind words for the renowned pop idol saying she was "a musician who desperately thinks she must generate recognition by bullying state officials instead of playing decent music on the stage."
Banda accused her of trying to pressure the Malawian government to "roll out a red carpet and blast the 21-gun salute in her honour"…..thinking "she deserves to be revered with state grandeur."
Madonna denied the accusations which some observers said were meted out because the music icon had fired Anjimile Mtila-Oponyo who was Banda's sister as head of Raising Malawi.
Following the defeat of Banda during 2014 presidential elections, Madonna relationship with Malawi became warmer again.
Mutharika appointed her Malawi's Goodwill Ambassador for Child Welfare. It was in the same week in 2014 that she launched the children's surgery and intensive care unit project.