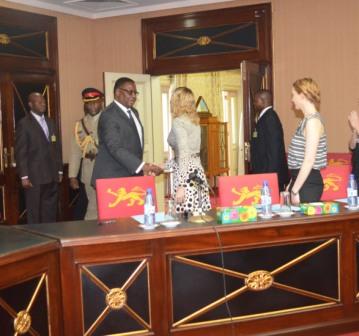 Call it Madonna's PR tactics! Real action contradicts official statement.What's the truth about Madonna's current visit to Malawi? Is she planning to adopt children or not? Journalist Brian Ligomeka analyses the situation.
While some sections of the media have reported that Madonna will not adopt two more children from Malawi, the local television networks on Wednesday night broadcast footage of the pop star at the High Court of Malawi in Lilongwe.
Government officials in the southern African nation have confirmed Madonna wants to adopt two more children.
Judiciary Spokesperson Mlenga Mvula told the local media that Madonna has filed for the adoption of two more children from Malawi.
He has declined to disclose the name of the children saying some issues governing adoption process are confidential in order to protect the interests of the children.
Ministry of Gender and Children Affairs spokesperson Lucy Bandazi has also confirmed Madonna's interest.
"Madonna has expressed interest to adopt two children, both female. They are twins, aged four years. As a Ministry we need to conduct thorough inquiries on the children regarding their circumstances," Bandazi said.
PR tactics
While there is ample evidence in Malawi that Madonna has initiated an adoption process of twin girls, the confusion comes in what her publicists have told the foreign media.  The US Magazine on its website reported that, the pop star has not applied to adopt children from Malawi.
"I am in Malawi to check on the children's hospital in Blantyre and my other work with Raising Malawi, and then heading home," she tells Us Weekly in a statement. "The rumors of an adoption process are untrue."
The Guardian newspaper also reported that Madonna denied that she is seeking an adoption. Speaking via a publicist, she told the Guardian: "I am in Malawi to check on the children's hospital in Blantyre and my other work with Raising Malawi [her charity], and then heading home. The rumours of an adoption process are untrue."
Which is which? From what happened at the High Court of Malawi in the capital Lilongwe, Madonna is planning to adopt two more children.
If she were to check on the children hospital ward her Raising Malawi charity is supporting, Madonna would have been in the commercial of Blantyre which is about 400 kilometres away from Lilongwe.
How can someone who is checking a hospital project which is in Blantyre be at the High Court in Lilongwe which is some 400 kilometres away? What was she doing in the court with her local lawyer Titus Mvalo in the chambers of Judge Fiona Mwale if it was not applying for an adoption?
Has she perhaps been sued or is she suing someone? Muuuh. It can't be.
Her action and her conflicting statement just demonstrated one thing – she is not sure whether the court will approve the adoption application or not. Obviously, if the court can rebuff her application, that would result in negative publicity. All she is doing now is managing the adoption process.
Madonna, who in 2008 adopted David Banda and a year later adopted Mercy James, has for some years maintained a good working relationship with Malawi following the creation of her charity, Raising Malawi.
Besides adopting children, the international pop star is supporting the construction of a 50-bed children ward at Queen Elizabeth Central Hospital in the commercial city of Blantyre.
"The new pediatric surgery and intensive care unit will have an enormous impact on saving the lives of children," said Madonna after visiting the construction site last year.
The pop diva said she would fight hard to ensure that the unit has the equipment and is fully operational by this year.
The children's unit is a 50-bed ward and will enable the hospital to increase the number of surgeries for children at the hospital by almost 100 percent.
Due to Madonna good relationship with Malawi's top leadership, two years ago President Peter Mutharika appointed her as Malawi's Ambassador for Child Welfare.
Prior to Mutharika's ascendance to power, Madonna had a stormy relationship with Malawi's ex-president Joyce Banda who stripped the pop star's VIP status in Malawi.
Banda accused Madonna of being bad-mannered celebrity who was using her wealth and charity to press for everlasting gratitude from Malawians simply because she adopted two children.
Her inspiration
Way back in 2006 Madonna once revealed why she decided to adopt children from Malawi.
"To see 8-year-olds in charge of households. To see mothers dying, with Kaposi's sarcoma lesions all over their bodies. To see open sewages everywhere. To see what I saw. It is a state of emergency. As far as I'm concerned, the adoption laws have to be changed to suit that state of emergency," she said at the time. "I think if everybody went there, they'd want to bring one of those children home with them and give them a better life."
Madona also bemoaned the slow process of adopting children in Malawi.
"I assure you it doesn't matter who you are or how much money you have, nothing goes fast in Africa," she explained.
Besides the adopted children, Madonna is a biological mother to Rocco and Lourdes.