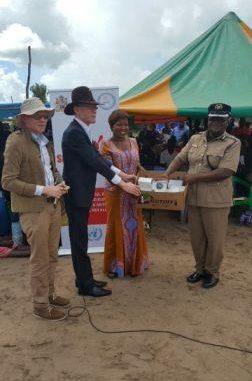 Malawi government has distributed GPS trackers to bust continued attacks on persons with albinism.
According to police, the use of GPS trackers for persons with albinism will help protect victims and track perpetrators.
Police spokesperson for Eastern Malawi Joseph Sauka told state-owned Malawi News Agency on Wednesday that the security gadgets will assist law enforcers when discharging their duties.
The technology is based on the use of electronic zone assert tracker GPS security gadgets which has been donated by CC Initiative Limited, a company that deals with electronic security systems in United Kingdom.
The gadgets which have a panic alarm button will be distributed to people with albinism in hotspot areas to activate the alarms by pressing a Save Our Souls (SOS) button when they sense danger.
The system will be alerting registered responders simultaneously.  The responders include the Police Rapid Response Unit and community policing groups.
According to Sauka, Police and community response teams have been trained to participate in this initiative.
"The gadgets will assist very much. When a person is in danger, police will be receiving signals indicating where a person is being attacked and police will be rushing to that place to protect the person," said Sauka.
He added that police will work hand in hand with the communities and chiefs in order to make the security system fully functional all the time.
"We have trained community policing groups and chiefs so that when a person is attacked far from a police station, police will be communicating with the community where a person is being attacked and members of community policing will be able to protect that person," he said.
Speaking in a separate interview with Malawi News Agency (Mana), Overstone Kondowe, president of Association of Persons with Albinism in Malawi, was excited with the initiative.
"As of now the conventional ways of providing security to people with Albinism by the state are not working effectively, so these GPS gadgets will assist tracing locations where a person is being kidnapped," said Kondowe.
According to Kondowe, CC Initiative Company has offered to provide over 2,000 gadgets to people with albinism across Malawi, but so far over 120 gadgets have been distributed randomly in all three regions of country.
He urged government and general public to join hands in supporting this new initiative.
Magnitude
Armed with machetes, knives and axes, criminal gangs nicknamed 'albino hunters' continue to strike fear into albinos by abducting and killing them both in broad daylight and at night.
The once-peaceful Southern African nation of Malawi is now an epicentre of albino abductions and killings in the region.
So far over 20 persons with albinism have been murdered while 70 criminal offences have been committed against albinos.
Superstitions
The root of such murders is entrenched beliefs in witchcraft.
A report by Amnesty International (AI) last year confirmed what Malawians already knew – a surge in killings is a result of the belief that body parts of albinos have the magical potency for wealth and success enhancement.
According to the report titled: "We are not animals to be hunted or sold: Violence and discrimination against people with albinism in Malawi", the killings continue because of the superstition that the bones of people with albinism have gold and potent magical powers.
"Their bones are believed to be sold to magicians in Malawi and Mozambique for use in charms in the belief that they bring wealth and good luck. The macabre trade is also fuelled by a belief that bones of people with albinism contain gold," reads the report in part.
The superstitious Malawians are not only pursuing those living with the condition as the albino killers have taken their hunt to graveyards.
About 40 cases of illegal exhumation of the bodies of albinos or of people in possession of bones taken from corpses have been recorded. Amnesty International opines that some of them may in fact be cases of actual killings rather than mere grave tampering and robberies.
Human rights activist Boniface Massa blames the murders on the witchdoctors who are taking advantage of the superstitious citizens' ignorance by creating the misconception that bones of albinos are potent charms.
"There are all sorts of baseless misconceptions. They include the wrong belief that having sex with an albino will cure HIV and AIDS. Some are hoodwinked into believing that our body parts can make one get rich quickly, either by using parts such as eyes to be visionary and forward-looking. Those are empty lies," he observes.
Malawi is indeed full of superstitious citizenry and the belief in witchcraft and supernatural forces is just rampant. It is said that even some managers and chief executives with a string of postgraduate degrees do visit illiterate and poverty-stricken witchdoctors to seek charms for promotions or even fortify their positions. The paradox of it is that the so-called magicians are actually illiterate and poor people miserably who fail to utilise their own charms to enrich themselves before assisting others, yet they hoodwink many.
It is superstition that has created a fertile ground for tricksters masquerading as witchdoctors by enticing Malawians into believing that the easiest route to success and prosperity is through the use of magic.
Land of terror
For albinos, Malawi – a nation of 17 million people- is no longer the warm heart of Africa but the land of terror.
When in public, some are mocked as mobile cash or moving money. One 37 year-old man told Amnesty International: "People tell me in my face that they will sell me.  One time someone said I was worth US$10,000. I felt terrible that a price tag can be put on me." Besides labeled as mobile cash, women with albinism suffer the most humiliation as they are also branded as machilitso (cure), a description that fuel the belief that having sex with a person with albinism can cure HIV.
"The unprecedented wave of brutal attacks against people with albinism has created a climate of terror for this vulnerable group and their families who are living in a state of constant fear for their lives," observes Amnesty's Director for Southern Africa Deprose Muchena.
In public there is a unanimous consensus. The murder and mutilation of persons with albinism constitutes a gross violation of fundamental human rights, as enshrined in the Universal Declaration of Human Rights.
Article 3 of the declaration recognises that "everyone has the right to life, liberty and security of person."  Additional reporting by Moses Nyirenda, MANA.