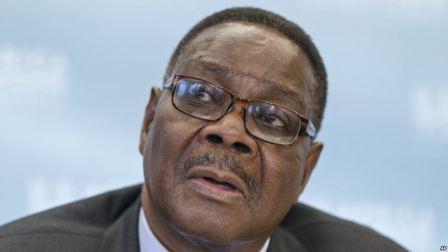 Malawi President Peter Mutharika says every problem has a solution while every challenge offers an opportunity.
"Let us come into the New Year with a positive Economic Mindset. For every problem, there is a solution. For every challenge, there is an opportunity," said Mutharika in his New Year message.
According to Mutharika, most countries have built great economies out of ruins and hence there is no need to be hopeless when facing challenges.
"After all, hope comes where there are challenges. And courage comes where there is fear," explained Mutharika.
He said economists at the International Monetary Fund have projected that in 2017, the global economy will grow at the rate of 3.4% and the Malawian economy will exceed that and hit 5% growth.
Calling Malawi a land of opportunities, Mutharika asked citizens to believe in their capacities.
"We must have the right investment mindset. Coupled with the various public sector reforms and zero tolerance to corruption, Malawi has become one of the most attractive places to invest. While Foreign Direct Investment is on the rise, I want to encourage my fellow Malawians to take advantage of the improved investment environment and invest.
"In our individual lives, families and businesses, no matter how little, we all have something we can build on and invest. Most of us have assets that we can turn into capital. I know a boy who walked from his village to the city and sold his old radio to start a humble business. Out of that radio, he became a vendor and today he is big in businesses," said Mutharika.
Determination
The Malawi President said determination is one of the catalysts for success citing some people with disabilities who are defying the odds.
He cited a story of such one personality. "I have seen a man with visual disability – a man who cannot see, growing crops in his field, building a house and improving his household.
"This visually impaired person is able to rise beyond his challenges because he has the strong will and a positive mindset. This is the determination that we need to make 2017 a year with a difference."
According to Mutharika, while the task of the government is to create an environment for individuals to prosper the reality of life is that there may never be a perfect environment because challenges are part of life.
"But we must resolve to do our best even when everything is determined against us….However, the environment that governments create is like rain from heaven. Rain falls in everyone's field. But [prosperity is attained by] only those who prepare their fields, plant and harvest."
Pessimists
In his New Year message, the Malawi leader bemoaned the tendency of some people whose preoccupation is to spread negative perception every day.
"Their goal is to ensure that you and I are driven by a negative mindset. Every day, they want you to believe that we are failures. They want to undermine our determination to succeed by making us believe that we are failures. But I say to you, never think like a failure.
"They want you to believe that nothing is happening, simply to undermine everything that is happening. And I say to you; never allow anyone to make you undermine your country. In the year 2017, let us rise above and say no to negative mindset! The ability to achieve greater goals is founded on a more positive mindset," explained Mutharika.
 Every problem has solution
Because every problem has a solution, Mutharika said in 2016 some Malawians chalked some success.
"We have managed the hunger situation much better than we did in 2015 and 2014. I want to thank the various humanitarian organizations for supporting us to ensure that the most vulnerable Malawians get food. Nobody, and I repeat, Nobody is going to die of hunger. As I speak, we have enough stocks to take the country into the next season."
On corruption the Malawi President said fighting corruption is long drawn war.
"Every war is fought in battles, and so far, we have won all court cases on cashgate. More battles are in, or on the way to the courts of law. The war against corruption is on, and we will win it. When we come after you, never say I am persecuting anyone."
Capstone
Mutharika had this piece of advice: "Let us all go into the New Year to live a purpose-driven life, to be performance-driven and to be result-oriented. Remember, the future of this nation is built on patriotism, integrity and hard-work."
Furthermore, "the prosperity of a nation begins with the prosperity of individuals. It is from what you and I achieve that will determine our collective prosperity as a nation."