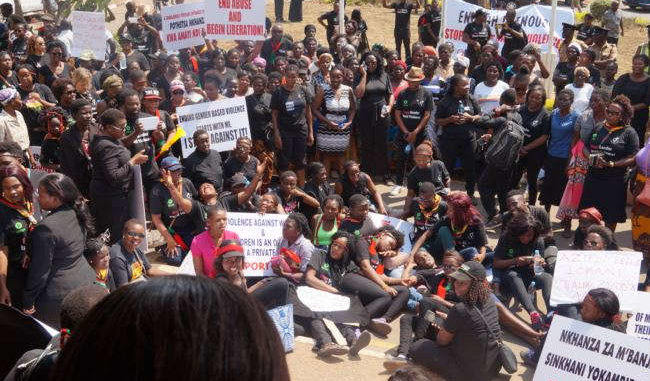 Human rights activists took to the streets in Malawi capital, Lilongwe on Thursday to protest recent upsurge in incidents of domestic violence.
In the past few months, seven women were killed or seriously injured by their partners.
The protesters, many of them women, wore black attire, and at one point they lay in the street to symbolize mourning.
They carried banners and placards that read: "Violence against women is an offense, not a private issue," "Ending gender violence starts with me, I stand against it;" and "Don't be silent, speak up against intimate partners' violence."
Gender Coordination Network national coordinator Emma Kaliya told CSJNEWS that domestic violence is not an isolated occurrence in Malawi, but what is most worrying is the form it now has taken.
"In the past, we used to know the beating, maybe the shouting, and also maybe stalking. But now we are seeing a different one, where people are literally using small arms to harm others. Some are using knives to stab women," she said.
A number of incidents triggered the protests.
In one incident, a young mother who was killed by her husband in southern Malawi for refusing to open the door for him when he returned from a drinking spree while in another incident 30-year-old Miriam Siula, was stabbed with a knife by her ex-boyfriend in Lilongwe after she ended the relationship.
Men for Gender Equality Now chairperson Marcel Chisi  in an interview said that men are sometimes driven to commit domestic violence because of the entrenched patriarchal nature of Malawi society, in which men regard themselves as decision-makers on behalf of women.
"Nowadays more women are getting empowered and are beginning to question some decisions by men," he said.
Chisi said ongoing sensitization meetings by women's rights campaigners on the subject have resulted in more women reporting violent incidents to law enforcement agencies for action.
National Police spokesman James Kadadzera said there is an improvement in the reporting of gender-based violence.
"We are receiving cases of domestic violence on a daily basis in many police facilities," he said.
Statistics by the Ministry of Gender in Malawi show that 53 percent of married women report their current husbands as the perpetrators of the violence they face.
But Kadadzera said many women withdraw cases involving their husbands because of fears of financial insecurity, and that allows many perpetrators to escape punishment.
Domestic violence in Malawi is an offense punishable by a maximum sentence of 14 years in prison.
Legal experts say some women fail to report domestic violence cases largely because of the high illiteracy rate among women, currently at 71 percent.
The protesters presented a petition to the government in which they demanded that any public officer engaged in any form of violence against women should be dismissed from public service.
They also asked Malawi leader President Peter Mutharika to condemn domestic violence in all its forms.
Malawi's Gender deputy minister Clement Mukumbwa  said government would look into all issues raised by the protestors.