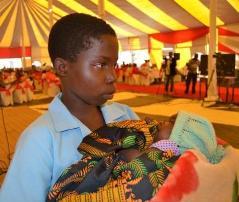 Outdated and unrealistic sexual and reproductive health policies and laws in Malawi are fueling teen pregnancies and unsafe abortions, EMILY BANDA observes
 Framed in homage of our backward-conservative culture, unclearly-defined morality and imported-foreign religions, Malawi's sexual and reproductive policies and laws are miserably failing to serve their intended purposes.
The inadequacies in our SRHR policies and laws are plenty. To date, for instance, the government is reluctant to offer comprehensive sexual and reproductive health education in secondary schools. That's not all. Despite being aware of the high rate of school dropouts due to unintended pregnancies, the government still forbids condom distribution in secondary schools.
Contrary to the provisions of the Maputo Protocol which calls on governments in Africa to provide safe abortion services, Malawi continues to dilly-dally in enacting the Termination of Pregnancy Bill.
There are several consequences of our restrictive policies and laws. Girls and women – especially those in the rural areas – are suffering from social implications of unwanted pregnancies and unsafe abortion.
Regardless of the restrictive policies, thousands of unwanted pregnancies continue to occur among girls and women due to limited access to family planning methods including condoms. The situation is worsened by the restrictive setting for safe abortion services that leads many girls and women to unsafe abortion when they do not want to keep their unwanted pregnancies.
In 2015, over 886 220 pregnancies were registered. Out of the 886 220 pregnancies, almost 470 000 were conceived by mistake. Simply put, they were unwanted pregnancies. In that year over 141,000 girls and women terminated their unwanted pregnancies.
That's how huge the problem is.
The sad part is that the rate of unwanted pregnancies is high amongst school-going girls. Surprisingly the government for reasons best known to itself prohibits condom distribution in schools. Below is a snapshot of how girls are dropping out of schools due to unwanted pregnancies.
Schoolgirls 'mass' pregnancies
Phalombe, January 10, 2018 -Mpasa Community Day Secondary Schools (CDSS) in Phalombe in southern Malawi has  started the second term of the 2017/2018  academic year with 30-girls less due to unexpected pregnancies.The 30 girls who were all beneficiaries of various school fees bursary programmes provided at the school are said to have gotten pregnant during and after the first term which started in September and ended in December 2017.
Speaking in an interview with Mana on Tuesday, head teacher for the school, Herbert Msasa confirmed the mass drop out and has described it as a blow to the fight for the girl child's education.
According to the head teacher, while it would be expected that most students would drop out of school due to lack of financial support from their guardians and well-wishers, it was sad to note that provision of school bursary has not solved any problems as it turns out.
 "In the past we have had one or two girls drop out of school in a year, but having 30 girls dropping out in a term is something that leaves us with no possible explanations. Only the girls themselves can best explain the reasons why they fell into such traps,"  Msasa pointed out .
He said the only reason that he finds fitting for the occasion is lack of sexual reproductive health information and services which would assist them in escaping teenage pregnancies. – Mana
38 girls pregnant at Bua CDSS
 Mchinji, June 15, 2017 – Bua Community Day Secondary School (CDSS) in Mchinji in central Malawi has attained the unenviable accolade of probably being one of the schools with the highest dropouts due to pregnancy.
Between September and June this year 38 female learners have dropped out of school due to pregnancy.
Announcing the news during a meeting with parents organised by Women's Hope for Change, Bua CDSS head teacher Ireen Zimba pleaded with parents and teachers to work together to reverse this trend. Mana
111 pregnancies at Sopa CDSS 
 Mchinji, October 7, 2015 – Sopa Community Day Secondary School (CDSS) in Mchinji has registered 111 pregnancies over a period of three years, a development which has contributed to a high dropout rate of girls from the institution, The Nation can reveal.
The majority of the girls who fell pregnant are those in self-boarding facilities that could not manage to commute an average of 25 kilometres (km) between the school and their respective homes everyday.
The school's head teacher, Jonathan Magombo, confirmed the development, saying  the learners' behaviour after school hours is beyond the school's control.
Said Magombo: "In 2012/2013 academic year, 49 girls got pregnant and dropped out of school. During the 2013/2014 academic year, there were 35 pregnancies while in 2014/2015 academic year we had 27 pregnancies. As if that is not enough, this academic year is just four weeks old we already have two pregnancies." The Nation
Time is ripe that policy-makers in Malawi need to do soul-searching by answering some sobering questions: "Who is benefitting from the policy that prohibits condom distribution amongst teenagers of reproductive age in schools when thousands of girls are dropping out due to unwanted pregnancies? Who is benefitting from Malawi's restrictive abortion law when thousands women and girls are suffering from complications of unsafe abortions?"