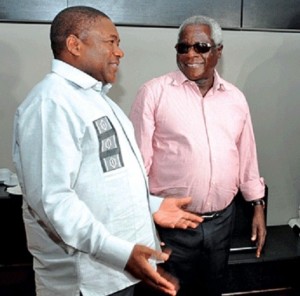 Ceasefire! Mozambique rebel chief Alfonso Dhlakama orders. But wait a minute, the ceasefire is only for seven days. CSJNEWS Correspondent reports
Mozambicans can breathe a sigh of relief as Afonso Dhlakama, leader of the rebel movement, on Tuesday announced that Renamo will cease its military attacks for the next week.
Dhlakama said the truce began at midnight on Tuesday and will last for the next seven days,
He said the temporary ceasefire was his own brainchild taken after a phone conversation with President Filipe Nyusi. Dhlakama.
The rebel leader said the ceasefire would enable Mozambicans to spend the New Year holiday peacefully.
"I want to guarantee that the Renamo forces will carry out their orders. There would be no further attacks against vehicles on the roads, or against government positions," Mozambican News Agency (AIM) quoted Dhlakama as saying.
He added: "Any attack that does occur is by somebody else, not by Renamo.".
Nyusi confirmed talking to Dhlakama saying the two wished each other Happy Holidays.
"We took the opportunity to speak at length about the question of peace," said Nyusi.
Long road to ceasefire
Despite the current ceasefire, there is still a long way for the warring sides to reach a permanent agreement.
Initially, the government accepted to make constitutional changes that will allow the opposition National Resistance Movement (Renamo) to govern in six provinces where it won majority votes during the 2014 elections. However, implementation remains problematic.
Some outstanding issues are an agreement on the permanent ceasefire and the disarmament and integration of Renamo soldiers into the regular army and police.
Since 2014 elections, tensions have been escalating in Mozambique reminding the citizenry of the 16-year bloody civil war which ended in 1992.
Renamo has been refusing to accept the outcome of 2014 elections which saw the ruling Frelimo party being re-elected.
The fighting in Mozambique has forced over 12,000 people to seek refugee in Malawi and about 3000 to seek refugee in Zimbabwe.