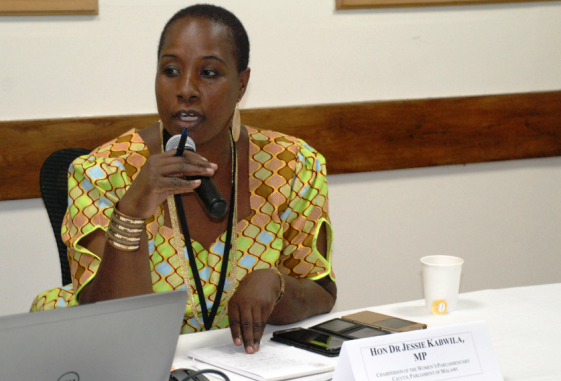 Rising cases of sexually transmitted infections in prisons have re-ignited the question of whether Malawi should allow condoms use in penal institutions.
Personal accounts of inmates who have released from prisons and several research findings are unanimous on the fact that homosexuality is rampant among inmates and consequently responsible for the widespread of sexually transmitted infections (STIs).
A recent screening exercise conducted by the Malawi Prison Services at Chichiri Prison in the commercial city of Blantyre revealed that out of 1880 inmates tested for syphilis, 46 were diagnosed positive. The exercise also revealed that out of the 1, 344 inmates screened for HIV, about 100 were diagnosed positive and 62 of them were newly infected.
A research conducted by Dorothy Jolofani and Joseph DeGabriele for Penal Reform International on HIV and AIDS in Malawi Prisons on explains that "most prisoners and prison officers acknowledged that homosexual activity was common and that this was the main method of transmitting HIV within prison."
Despite such findings, the question of preventing spread of STIs including HIV among inmates is proving to be a headache to most bureaucrats and policy-makers in Malawi as homosexuality is criminalised.
Homosexual activity or 'unnatural offences' as it is described in the Malawi Penal Code in Section 153 is illegal and carries a prison sentence of fourteen years. At the moment, courtesy of a government moratorium suspending the enforcement of the section, LGBTI citizens are not arrested, but the draconian provision still remains in the statute books.
Considering the consequences of letting inmates to be contracting HIV while serving their sentences, the Malawi Interfaith Aids Association (MIAA) has proposed that government should immediately allow condom distribution in prisons to reduce the spread of the pandemic.
"We are aware that there is homosexuality in our prisons. We even have testimonies of people who go into prisons without the virus and come out with the virus. This is a clear indication that homosexual acts are taking place in our prisons and if we do not do anything about it the rate of new HIV infections will continue to rise," points out MIAA executive director Robert Ngayiyaye.
He believes that distribution of the condoms will in no way promote homosexual acts in the country but it will be a way of ensuring that even prisoners have access to such health services.
"The provision of condoms to inmates will not in any way mean that we are promoting or legitimizing same sex relations. The intervention simply wants to stop the spread of HIV. Let's be mindful that convicts are jailed to serve their sentences and not to contract HIV," Ngayiyaye explained.
Govt. position
Calls by human rights organisations that men having sex with men (MSM) and women having  sex with women (WSW) during their jail terms should have access to condoms is actually in line with government policies.
According to Malawi National HIV Prevention Strategy (2015-20) some of the proposed interventions for preventing the transmission of HIV among MSMs and WSWs is the distribution of condoms, lubricants besides offering them STI treatment and regular screenings.
"In line with the 2015-2020 NSP, the HIV Prevention Strategy will focus STI prevention and treatment efforts for key and vulnerable populations including female sex workers, men having sex with men , sexually active adolescents and youth, and mobile populations, rather than for the general population," the policy document in part.
According to the policy, "MSM are a key population with higher HIV prevalence as compared to the general population."
Opposition
Without offering any solution on how the transmission of HIV in prisons can be arrested, Evangelical Association of Malawi (EAM) simply opposes the proposal to distribute condoms in prisons.
The association's argument is that condom distribution amongst inmates would encourage homosexuality.
"It is unacceptable to be promoting distribution of condoms in prisons as it means you are also promoting homosexuality," observed Kawalala.
But critics of the proposal are being challenged to accept reality instead of being entrenched in their homophobic culture.
Lawmaker and prominent human rights activist Dr Jessie Kabwila has a message for those who perpetrate discrimination against sexual minorities.
"Malawi cannot afford to bury its head in the sand. Sexual minorities are a reality in every community, HIV/AIDS interventions need to engage them….Ownership of MSM and sex workers as human beings who are Malawians will allow the state to spearhead HIV/AIDS interventions that will truly reach them; as the sexual minorities will not have operate under the table."
She made the observation in a paper she wrote after she had reviewed legal and policy reform issues impeding the effective implementation of HIV and other health related intervention for sexual minorities in Malawi.
"Instead of having national policies and laws propelling oppression and violence against MSM and sex workers, they would now protect them. If MSM is decriminalised, interventions will be in line with the country's policies," she said in one of her research reports.
True to Kabwila's observation, the 2015-20 Malawi National HIV Policy notes that in Malawi "strategies to address the HIV epidemic are hampered by an environment where human rights are not respected."
Commenting on the dilemma, Centre for Solutions Journalism executive director Brian Ligomeka said policy makers need to respect the Constitution on the need to offer health care to all Malawians.
"The Constitution of Malawi is clear.  The government has the responsibility to provide adequate health care commensurate with the health needs of Malawi Society and international standards of health care. This includes the healthcare of key populations in terms of HIV and AIDS spread," he said.
According to Ligomeka, some of the key populations are sex workers, men who have sex with men and all LGBTI citizens, some of whom are in prison.
"Government is fully aware of the challenge and this is why the Malawi National HIV Strategy clearly spells out that one of the strategies to arrest HIV transmission amongst LGBTI is through the provision of condoms and lubricants.
"It is madness to allow citizens to be dying from HIV and AIDS-related illnesses just because someone is paying homage to some archaic sodomy laws written by colonialists in 1800s," he said.
Malawi cannot attain her ambition of meeting the UNAIDS 90-90-90 Treatment Targets if key populations are not targeted with necessary interventions, according to Ligomeka.
But should condoms be distributed amongst inmates?
"When you are in war, you use every weapon to defeat your opponent. If distribution of condoms amongst inmates can assist the country win the battle against HIV and AIDS, let the condoms and lubricants be distributed among LGBTI citizens including those in prisons," he said.
The current challenges, Ligomeka said, simply showed that there is need for the government to do away with all provisions in the Penal Code which are inconsistent with the Constitution.
"Why should the country stick to ancient laws which are derailing the fight against HIV and AIDS? Let them be repealed!" he said.
This article was made possible through support from The Other Foundation. The views expressed herein do not necessarily represent those of The Other Foundation.