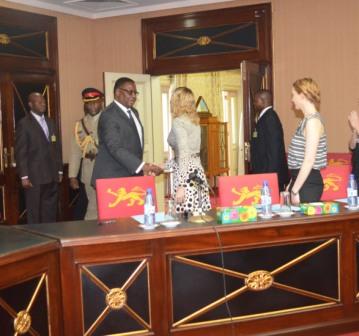 BLANTYRE, Malawi – A court sitting in Malawi capital Lilongwe has granted international pop diva Madonna permission to adopt twin girls from the southern African nation.
The adoption of the twins aged four brings the number of children Madonna has adopted from Malawi to four.
She adopted David Banda in 2008 and Mercy James in 2009. Both of them are now eleven years old.
The development comes two weeks after Madonna made the application in a Malawian court in person.
Malawi Judiciary Spokesperson Mlenga Mvula has been quoted by the media as saying that Madonna would be under observation for a year before the adoption process is finalized.
"The High Court of Malawi has given her permission to adopt the two children. She will be under observation and after a year the permission can either be revoked or confirmed," he was quoted as saying.
Besides the children adopted from Malawi, Madonna has two biological children namely Lourdes aged 19 and Rocco aged 15.
Initially some sections of the foreign media reported that Madonna would not adopt more children from Malawi.
But Ministry of Gender and Children Affairs spokesperson Lucy Bandazi confirmed Madonna's intention.
"Madonna has expressed interest to adopt two children, both female. They are twins, aged four years. As a Ministry we need to conduct thorough inquiries on the children regarding their circumstances," Bandazi said a fortnight ago.
While there was ample evidence in Malawi that Madonna had initiated an adoption process of twin girls, the confusion came in due what her publicists have told the foreign media.  The US Magazine on its website reported that, the pop star had not applied to adopt children from Malawi.
"I am in Malawi to check on the children's hospital in Blantyre and my other work with Raising Malawi, and then heading home," she told Us Weekly in a statement. "The rumors of an adoption process are untrue."
The Guardian newspaper also reported that Madonna denied that she is seeking an adoption. Speaking via a publicist, she told the Guardian: "I am in Malawi to check on the children's hospital in Blantyre and my other work with Raising Malawi [her charity], and then heading home. The rumours of an adoption process are untrue."
Besides adopting children, the international pop star is supporting the construction of a 50-bed children ward at Queen Elizabeth Central Hospital in the commercial city of Blantyre.
"The new pediatric surgery and intensive care unit will have an enormous impact on saving the lives of children," said Madonna after visiting the construction site last year.
The pop diva said she would fight hard to ensure that the unit has the equipment and is fully operational by this year.
The children's unit is a 50-bed ward and will enable the hospital to increase the number of surgeries for children at the hospital by almost 100 percent.
Due to Madonna good relationship with Malawi's top leadership, two years ago President Peter Mutharika appointed her as Malawi's Ambassador for Child Welfare.
Prior to Mutharika's ascendance to power, Madonna had a stormy relationship with Malawi's ex-president Joyce Banda who stripped the pop star's VIP status in Malawi.
Banda accused Madonna of being bad-mannered celebrity who was using her wealth and charity to press for everlasting gratitude from Malawians simply because she adopted two children.