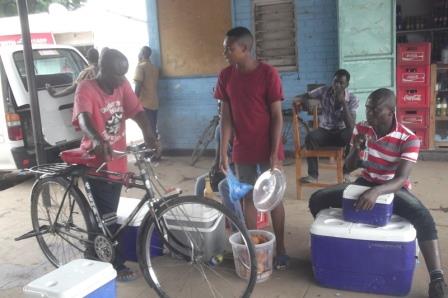 A teenager trafficked by his own mother from eastern Malawi to northern part of the African nation tells a story of his desperation. BISHOP WITMOS of Malawi News Agency writes
KARONGA (Malawi) For eight years now, a teenager has been missing from Mbalwe Village in eastern Malawi's district of Machinga after being trafficked by his own mother away to northern Malawi.
This is a heart-breaking story of Innocent Issah Kamenya who has been living a desperate life in Karonga in search for transport in order to reunite with his relatives in eastern Malawi, but to no avail since 2009 when he was only ten years old.
Now at 18 years of age, Innocent is always found selling boiled eggs for some business persons around Karonga in order to earn a living.
"I have worked for and have been fooled by more than 20 employers in Karonga," says Kamenya. Apart from working as a housekeeper, people hire me to sell their merchandize in town to get my food for that day,'' he adds.
Looking at his face, one can simply tell how the boy has gone through harsh situations, as he always looks drained due to over- working and sleeping on an empty stomach.
''At times I have been severely beaten by my bosses and kept outside at night for a mere reason that I could not make enough money," narrates Innocent while sobbing.
He is now jobless after getting tired of the life of exclusion.
This reporter recently spotted Innocent drunk one night at his grass-thatched house that is costing him K2, 000 per month.
"My life is full of frustrations, and I do not dream of becoming somebody in future," he says.
Innocent together with six fellow children and their mother travelled from Machinga to work in tobacco fields in Mzimba and Rumphi until in 2009 when he was left at Kacheche close to Bwengu in the district.
Since then, the young boy has lived without parental care as there was nobody to take care of him.
"Following a huge responsibility that my mother had, she left me with my uncle in Rumphi, but a year later he started ill-treating me, a development that forced me to run away to Karonga in search for work" he explains.
Innocent, who last saw his father around 2006 before her mother was divorced, says he cannot trace where his uncle is now.
The Child Care, Protection and Justice Act requires parents to take good care for their children and to give them all the necessary requirements.
However, the case of Innocent who dropped out of school in standard seven to fend for himself contrary to Section 3 of the Child Care, Protection and Justice Act.
Acting Director for Malawi Human Rights Resource Centre (MHRRC), Emma Kaliya, stresses the need for stakeholders to come in quickly to rescue Innocent from the hardship he is currently going through.
"What is required now is for government to rescue him from the hardship and reunite him with his relatives," Kaliya appeals.
The story of Innocent is one amongst many destitute Malawian boys and girls who are facing hard life in the district that borders Tanzania.
Most of these children from Rumphi and Chitipa are forced by poverty to search for good life in Karonga, one of the fastest growing towns in Malawi.
But the visible survival means of most girls of this type is through selling plastic bags around Karonga Boma, while several of such boys are hired as bicycle operators for some business tycoons in the district.
According to Assistant District Social Welfare Officer for Karonga Atupele Mwalweni, last year alone, her office recorded over 10 girls who were reported to have been recruited in jobs not suitable for them.
However, the social welfare office in Karonga cannot take up the challenge of rescuing the children due to limited resources.
''Ferrying destitute children to their respective homes require a lot of resources, and as of now, we do not have available transport," says Mwalweni.
Acting zone coordinator for CCAP Livingstonia Synod Aids Program (LISAP), Chawanangwa Mzembe warns that unless stakeholders take preventive measures, destitute children from Chitipa, Rumphi and Karonga are at risk of premature sexual activities that can expose them to HIV and AIDS.