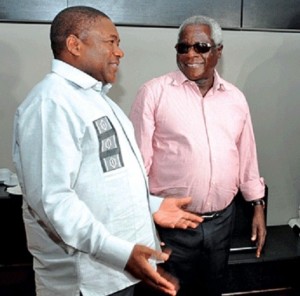 Christmas tidings of peace and goodwill in Mozambique seemed almost too good to be true after four years of sporadic but escalating civil conflict.
On December 26, Afonso Dhlakama, leader of the Renamo opposition movement, told the media that he and President Felipe Nyusi had spoken by phone and agreed to a provisional ceasefire.
A week later they agreed to extend the truce by a further 60 days. The good news was unexpected given that international mediators had recently packed up and left Mozambique after six months of stop-start talks that made almost no progress.
A further oddity of the conflict is that the Renamo guerrillas as well as its parliamentarians are under one man's leadership – Dhlakama. This means he leads a guerrilla force as well as parliamentarians who debate against the Frelimo government in the National Assembly.
Dhlakama was brought into electoral politics as a result of the 1992 peace accord. But by 2009 he was disillusioned with his party's declining performance at the polls and relocated to the northern city of Nampula, a place where Renamo has long had solid support.
It was there that his bodyguards – a force he was allowed to retain in the terms of the peace accord – exchanged fire with the police. Following the shootout, Dhlakama moved again, this time to Satungira, his old wartime redoubt in the Gorongosa National Park in Sofala Province of central Mozambique.
Renamo soldiers, mostly ageing civil war veterans who had not received the demobilisation benefits they expected in 1992, began to gather and form encampments at locations across central and northern Mozambique.
Talking peace
Renamo ambushes on the main roads and exchanges of fire with government forces became more frequent through 2013 and 2014.
Elections in October 2014 brought a truce. But from late 2015 government forces started attacking Renamo positions and targeting civilians suspected of supporting Renamo. During 2016 at least eight Renamo officials were assassinated. Renamo in turn became less restrained in attacking civilian targets, including local government officials.
Dialogue mediated by Mozambican civil society groups secured the truce  before the 2014 elections, but failed to find a more enduring settlement. Renamo had been pushing for international mediators and foreign teams  arrived in Mozambique in July 2016.
The government and Renamo each got to pick members of the mediation team. The government called on the Southern African Development Community and on Jonathan Powell, a former chief-of-staff to British Prime Minister Tony Blair.
Renamo got the Catholic Church and the European Union on board. When the mediators left in December after half-a-year of stop-start talks, they made it clear that there was little point in them being there when little progress had been made towards common ground.
The main sticking point involved a political demand put on the table by Renamo: that it be granted the power to appoint provincial governors in the provinces where it claims to have won an electoral majority. Which provinces Renamo won is a further matter of dispute.
This solution would involve a shift away from today's centralised politics, whereby Frelimo, as the winner of the elections at national level, gets to appoint all the provincial governors.
But it's also not exactly a gain for democracy: the proposal is not for the provinces to choose their own leaders, but for Renamo, rather than Frelimo, to appoint governors in certain provinces on the basis of previous election results.
At one point during the negotiations, it looked as though the government might be about to make concessions on the crucial issue of decentralisation, only to backtrack. This apparent dithering reflects differing opinions within the party.
On the one hand, a centralised state is an article of faith for party hawks, who also fear that Renamo appointments to provincial governorships would create centres of patronage for Renamo and represent cracks in Frelimo's dominance of state power.
But another tendency within the party, likely including Nyusi himself, believes Frelimo has little to fear from decentralisation. This more flexible position on Nyusi's side could explain why a couple of ad-hoc phone chats between him and Dhlakama have managed to keep alive the idea of a peace just weeks after the mediation process fizzled out.
A question of sovereignty
Yet the terms of the ceasefire remain unresolved, and this poses an immediate threat to the truce. Renamo has promised to continue operating patrols within a 3km radius of its bases. The government refuses to keep its distance from Renamo bases, which Renamo sees as provocation.
This is not a trivial issue, but goes to the heart of a question about sovereignty and political legitimacy. The same disagreement over where government forces can and cannot go derailed the peace talks in August 2016 when the mediators tried to negotiate a security corridor for them to visit Dhlakama at Satungira.
The government has maintained the position that its sovereign prerogatives allow it to deploy its forces wherever it will, and that there is no such thing as Renamo territory.
Renamo, on the other hand, portrays the war as a conflict between equals and insists that it has the right to defend its positions against what it speaks of as government aggression. As things stand now, a skirmish between soldiers of the two sides could easily be seized upon by Dhlakama or by a Frelimo hawk as a reason to declare the truce null and void.
Whether or not the ceasefire holds, Mozambique's leaders are only starting to face up to the consequence of the country's financial crisis. In October, Mozambique acknowledged it could not pay its debts.
This is the outcome of a mounting scandal that broke earlier in 2016, when Mozambique revealed that it had US$1 billion in undeclared debt: the result of government bailouts for two part state-owned companies.
Major lenders promptly halted loans. The government also continues to be haunted by the disappearance of $600 million in bonds issued by the state fishing company supposedly to buy new boats. There are suspicions that the missing money was channelled into the war effort.
This squandering of state resources has had consequences for Mozambique's development indicators: half of rural people live below the poverty line, a figure barely reduced since 2003. Although Renamo is in no position to give farmers a better deal, it has won some sympathy for its cause by exploiting a sense of resentment in the largely rural provinces of the centre and north.
Justin Pearce is Leverhulme Early Career Fellow in Politics and International Studies & Research Associate of St John's College Cambridge, University of Cambridge.  This article was first published by The Conversation and has been republished under Creative Commons licence.