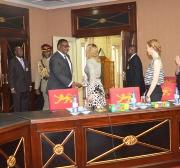 International pop Madonna continues to demonstrate to the whole world that she is committed solving some of the challenges facing children in the southern African nation of Malawi.
The latest proof of her commitment to charity work comes after she has raised more than $7.5 million for Malawi by auctioning treasures collected throughout her career.
According to Irish Examiner, Madonna coyly said she'd been in Donald Trump's bed, but later disclosed it was for a magazine photo shoot and that Trump wasn't there.
Besides adopting two children from Malawi Mercy James and David James, Madonna is building a paediatric surgery and intensive care unit at Queen Elizabeth Central Hospital in the southern Africa nation.
According to Madonna, if all goes as planned the pediatric unit whose construction dates back to 2015 is likely to be opened next year.
"This new pediatric surgery and intensive care unit will have an enormous impact on saving the lives of children," said Madonna after visiting the construction site on Sunday in Malawi's commercial city of Blantyre this year.
The pop diva said she would fight hard to ensure that the unit has the equipment and is fully operational by next year.
The children's unit is a 50-bed ward and will enable the hospital to increase the number of surgeries for children at the hospital by almost 100 percent.
Currently, Madonna enjoys a very good relationship with Malawi's top leadership.
Two years ago President Mutharika appointed her as Malawi's Ambassador for Child Welfare.
Prior to Mutharika's ascendance to power, Madonna had a stormy relationship with Malawi's ex-president Joyce Banda who stripped the pop star's VIP status.
Banda accused Madonna of being bad-mannered and of pressing everlasting gratitude from Malawians simply because she adopted two children. Additional information from Irish Examiner