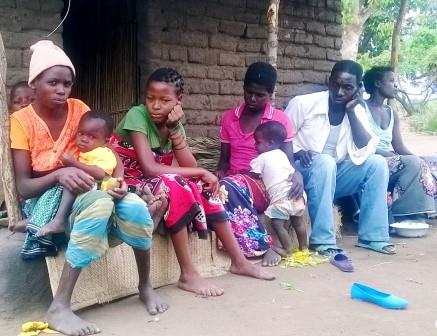 Attacks of persons with albinism have resurfaced in eastern Malawi, with the latest abduction taking place in resort district of Mangochi.  Malawi News Agency reporter KONDWANI MAGOMBO writes
Until the night of November 20, 2017, Mangochi had not experienced any serious attacks on persons with albinism, according to Mangochi Police Station and the district's Social Welfare records.
The few related cases that had been there were of individuals being caught in possession of human bones suspected to have been exhumed from graves of remains of people with albinism.
But on the night of Monday, November 20, shock befell an unsuspecting family at Tumbwe Village, eastern Malawi's district of Mangochi where a four-year-old boy with albinism, Amadu Wasi, was abducted from his helpless grandmother's custody.
"It was way past midnight when a stranger broke into the house with a torch. He grabbed the boy who was as fast asleep as was his grandmother," Steven Kazembe, a brother to Agnes Samson, the grandmother to the boy, told this reporter on Saturday.
"My sister sprung up from her slumber and managed to grab the leg of the intruder. But she was overpowered and by the time she regained her strength, the intruder was gone with the boy."
Perhaps the evil act was purposely timed and calculated basing on a number of factors.
Firstly, Amadu's mother, Mariam Moris, had gone to a neighboring village of Chilayi to attend a funeral rite commonly known as Sadaka.  She was not to be back until the following day.
The second factor that the evil-minded abductors might have utilized was the fact that Agnes, in whose custody the boy was left, was having a bad cough on the material night having a bad cough that night. It was this cough that had muted her shout for help to a muffled whisper of helplessness.
"All she could do was to run to my young brother's house for help and my brother alerted the neighbourhood for action. But it was too late," explained Kazembe, who stays at Fowo Village about 3 km away.
The brother, Samson Allison, who Agnes ran to for help stays just less than 300m away from his sister's house, a small grass-thatched structure with a rickety door shutter made from reeds.
Mangochi Police Station investigators rushed to the scene the same night upon being alerted. It came as a shock when the progress of investigations had all its accusatory fingers pointing to 49-year-old Allison, the brother to grandmother.
"We suspected a close hand in all this and when interrogated seriously, Allison confessed to have carried out the abduction.
According to Mangochi Police Station Public Relations Officer, Insp. Rodrick Maida he was persuaded by one, Jaffali Ligomeka, that they would sell the boy at US$8300.
Allison's share for successfully abducting the boy was MK1million, according to Maida. The abductor's role in this evil plot ended at handing over the boy to the alleged master-minder who had allegedly waited somewhere near the house during the operation.
Upon successful abduction and handover of Amadu, Allison had rushed home as quickly as his legs could carry him only to act ignorant and innocent later when his sister Agnes came to break the bad news to him.
The other suspect, Ligomeka, 44, was arrested alongside Allison but he pleaded not guilty to the charges leveled against him.
As if in direct response to recent appeal made by the Association of People with Albinism in Malawi (APAM) Secretary General, Maynard Zacharia, during UN Women's International Awareness Campaign in Mangochi, the case is receiving speedy justice.
The Zomba Senior Resident Magistrate Court sat in Mangochi on Friday, November 24, just four days after the abduction of Amadu.
For his plea of guilty, Allison was handed a 21-year custodial sentence for the abduction with intentions to kill, contrary to Section 261 of the Penal Code.
Ligomeka pleaded not guilty to the charge. Senior Resident Magistrate Chamdimba Nkhata committed him to jail on remand to give the state ample time to parade witnesses to testify against him.
Due to what until now are believed to be "baseless, wild and unfounded" ritual beliefs, over 20 persons with albinism have been killed in Malawi with 70 percent of them being women and children.
Furthermore, there have been over 120 cases of attacks or exhumation of graves for remains of people with albinism since 2015.
The attacks continue despite massive awareness campaigns and condemnation from local, international and global organizations, including Amnesty International and the UN, against the gross violation of human rights.
Malawi President Peter Mutharika has repeatedly made personal appeals against the act. Since the spate of attacks began, the Malawi leader has engaged all stakeholders including the clergy, chiefs and Civil Society Organizations to stand together in fighting the inhumane acts.
In June 2016, UN Women Representative in Malawi, Clara Anyangwe, categorically condemned the attacks describing them as "disheartening, unthinkable, and unacceptable gross violation of human rights that needs to be dealt with immediately."
With the recent abduction of the four-year-old boy in Mangochi, perhaps it's high time the nation as a whole took a rather bold solidarity step in bringing what one would call "the madness" to a stop.
Perhaps it also calls for echoing APAM president's appeal to SADC, AU and the UN when a nine-year-old boy with albinism, Harry Mokoshoni, was snatched away from his mother by unknown thugs in the middle of the night in Machinga, only to find his body a week later dumped in a drain 20 km away from the village.
"The killing of people with albinism is now becoming not only a national disaster but a regional one because it is in Tanzania, Mozambique, and beyond," APAM president, Boniface Massa had then said at a press briefing in Lilongwe on 2 March 2016.
"We, therefore, call on regional intervention from SADC. We need to unite and deal with the problem. If the killings of people with albinism are also occurring beyond SADC region, then we call for the intervention of AU and even the UN."
Amadu is third born in a family of four children, two boys and two girls, and his father is currently in South Africa for greener pasture.
The boy's family and everyone in Tumbwe Village and surrounding areas are still holding their breath for the safety of Amadu. Even the police's assurance that they are doing all they can to search for the boy can hardly ease the pain and anxiety of Amadu's 30-year-old mother, Mariam Moris.
"I want my boy back. It's painful to go to bed and wake up without him. All night I keep asking these questions: Where is he? How is he?" pleaded Mariam, a sad distant look in her eyes as she fought back tears.
She continued, this time no longer fighting the tears back: "The biggest and most painful question is: Will I ever see my son again? The pain is so unbearable – more so to think my own uncle plotted my son's abduction."