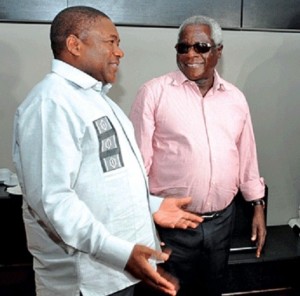 MAPUTO, Mozambique – People with disabilities in Mozambique through the Associations of the Disabled (FAMOD) has asked President Filipe Nyusi to end the conflict in the southern African nation.
FAMOD official Cantol Pondja said there was need for the government to undertake concrete actions aimed at ensuring that peace prevails in the entire Mozambique.
"The military tension that still prevails in many parts of the country should cease immediately, because it makes each and every citizen a candidate for disability," he said.
Responding to Pondja's comments at a meeting in Mozambican capital Maputo, Nyusi said the mission to re-establish peace in Mozambique should not be left to himself and to Afonso Dhlakama, leader of the rebel movement Renamo.
According to Nyusi, every Mozambican should push for peace.
"From the efforts we have been making, I feel that, with the support and awareness of all Mozambicans, we will be able, very rapidly, to achieve some consensus", he said.
The Mozambican leader added:  "Don't leave this mission up to Renamo leader Dhlakama and your President on their own. Were it to depend on just these two, we would already be speaking a different language".
Conflict
Following three years of skirmishes between Mozambican Defence Force and the Mozambican National Resistance (Renamo), conflict heightened from 2015 when the army attempted to destroy Renamo bases.
The conflict resulted in at least 10,000 people fleeing to Malawi as refugees.
Negotiations which are underway but are unable to end the conflict as Renamo's demands centred on some main points remain.
Among others, Renamo wants to have the right to appoint officers to the defence force equivalent to those appointed by the government. This was a provision of the Rome Accord, ignored in recent years as retired ex-Renamo officers were replaced by government nominees.
Renamo also want to take over governance of six provinces of Manica, Sofala, Tete, Zambezia, Nampula and Niassa.
"These provinces will be governed by Renamo, by the policy of Renamo, by Mozambicans who, although they might not be members of Renamo, are appointed because they enjoy our technical and professional trust, who are not thieves, drug addict or bandits," said Dhlakama last year.
Old strategy
When the ruling Frelimo rejected the opposition group's proposals, Renamo simply opted for its old trick of using the bullet to force negotiations with the government.
By destablising the transport sector through attacks on local and foreign trucks, Renamo succeeded in creating a regional crisis as that has affected landlocked Malawi, Zambia and Zimbabwe.
The threat by the landlocked countries to use alternative routes has economic impact on Maputo which generates some revenue from its sea ports.
The attacks have forced Mozambican leader Filipe Nyusi to make concessions on some of Renamo demands.
Nyusi first concession is that mediators can intervene in the talks between the two sides.
"If the problem is to have somebody else present while we are discussing, then let Dhlakama come with whoever he likes, and we will talk so that he ends the attacks", he said adding: "Let him come with these people, and we shall see what will happen. I am ready".
Nyusi explained that Mozambicans should not be killed just because somebody is putting conditions on talks aimed at achieving peace.
Renamo wants the European Union representatives, the Catholic Church and South African President Jacob Zuma to mediate in talks.
While Renamo's is demanding positions in the government, the military and the police,  the government is pressing for an immediate end of all armed attacks and complete disarmament of the rebel group.
Peace-building
A recent paper released by the Institute for Security Studies (ISS) attributes the crisis in Mozambique to incomplete peace building process following the end of the civil war in 1992.
ISS says Mozambique's peace building plans can be categorised according to five interlinked areas: security, economic foundations, inclusive politics, justice, and revenues and services.
The think-tank says political violence in recent years confirms that Mozambique's peace-building process is still incomplete.
"Notably, the disarmament, demobilisation and reintegration of ex-combatants has been a critical challenge since Mozambique's transition from conflict. Recent violence may, in part be traced to a lack of a comprehensive and consistent support for this process," ISS says in its analysis.