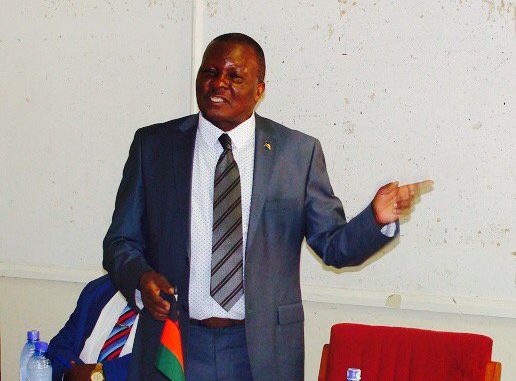 Rumours of blood-sucking vampires in southern Malawi have unexpected consequences. Six people killed. 35 arrested. UN staff withdrawn from affected districts. Tourism hit.
Rumours of alleged vampires who clad either in black or white attires while equipped themselves with blood-sucking syringes have sent a shockwave of uncontrolled hysteria in Malawi.
According to local in several rural districts in southern Malawi, the vampires boast of potent magical powers enabling them to draw blood from their drugged victims, who late become weak and sick.
But is the news about the vampires true? The answer is yes or no depending on the one who answers it.
"The issue is real. When they (bloodsuckers) get into a house, they first spread something like teargas and flash a dazzling light. Then everyone in the house becomes too week to shout for help," one traditional leader from Mulanje district told a local publication.
A villager Eranive Mahora, who claimed to be a victim of blood suckers issue, told privately-owned Weekend Nation that she learnt with great shock about people who do not believe the issue is real.
"I become so angry when I hear people say we are mad for believing that some people have had their blood sucked. I fainted for three hours after being sucked blood. And we are now suspecting that the government is behind this since it is not willing to address the issue," she said.
Meanwhile police in Mulanje said they have received 30 cases of people claiming to be victims of blood suckers and managed to arrest over 35 suspects as perpetrators of mob justice.
Fighting back
Communities in five southern Malawi districts of Mulanje, Thyolo, Chiradzulu, Phalombe and Nsanje where the alleged vampire attacks are rampant have mobilized themselves and formed vigilante patrol groups.
While their prey are the so-called modern-day vampires, if you are a traveller, visitor or tourist in the affected areas, the vigilante groups simply stone or hack you to death.
So far six people have been murdered by the vigilante groups who are taking the law into their own hands because of poor policing system in the southern African nation.
The killing of the six Malawians and the roughing up of foreign tourists particularly in Mulanje district has outraged government officials, who describe the reports as ludicrous.
Malawi's Information Minister Nicholas Dausi has repeatedly said the rumour was untrue.
"There is no such a thing as blood suckers. You can imagine that one person, a lady, was killed because he had a red lipstick which was suspected to be an instrument used to suck blood, that's unfortunate," Dausi said.
On his part, Malawi's Trade Minister Henry Mussa has bemoaned that the vampire rumours would derail government's efforts to promote tourism.
"The prevailing vampire paranoia situation in Mulanje and surrounding areas has the potential to derail our efforts in promoting our country as a tourism destination but also as preferred destination for foreign and direct investment," Mussa said.
As some ministers are dismissing the vampire attacks as mere rumours and myths, Home Affairs Minister Grace Chiumia told a privately-owned weekly Malawi News that something fishy is going on in the affected districts.
"I will not bury my head in the sand pretending people's suffering is for nothing. I wouldn't say blood suckers are here, but there is something the locals are trying to relay. The locals say they are generally experiencing strange things including general body weakness which scientifically I can associate with low hemoglobin in one's body.
"Even though we do not have a name for it, these things are real and are happening and can only be associated with magic, hence the need for prayers apart from responses from the law enforcement agencies," Chiumia said..
It is still unknown whether the bloodsuckers are spirits or human beings with magical powers, but the villagers claim that the attacks are still underway and the patrols continue.
Media criticism
Meanwhile the media in Malawi have criticized President Peter Mutharika for doing nothing since hysteria gripped the affected areas due to alleged vampire attacks.
One editorial in the local media urged Mutharika to go and address people in the hotspots where innocent people are murdered for being suspected to be vampires.
"How many more lives should be lost to move the President to act on the matter?" asks the paper in its editorial.
A senior editor with Times Group Innocent Chitosi in his column Pick & Choose published in Malawi News faulted the government for mishandling the issue.
"More depressing is the approach the government has taken by dismissing claims of people and even threatening anyone who talks about the issue, on the pretext that such talk is raising public alarm and panic. But the government was not supposed to take so long without a proper response, only to hush any desperate voices that call for help," Chitosi writes.
Malawi President Peter Mutharika has reacted by describing the recent developments as "distressing and agonizing."
According to Presidential spokesperson Mgeme Kalilani , the President "has been even more deeply touched that some people have been killed for being suspected to be among the supposed perpetrators of the feared blood sucking incidents."
"The President would like to ask the public to keep calm as the Government works to get to the bottom of the matter. The President also appeals to all concerned to remember to love one another and desist from taking the law in their hands whenever they are dealing with a suspect," Kalilani said in a statement.
He has promised to visit and address people in the affected districts.
Impact
In reaction to the vigilante attacks, the United States Embassy in Malawi has withdrawn its Peace Corps from some districts in southern Malawi.
"The US Embassy has instructed its personnel to exercise caution when travelling to Thyolo, Chiradzulu and Phalombe districts due to reports of high tensions and threats of vigilante justice in those districts stemming from the same rumours…..The United States Peace Corps has temporarily removed its volunteers from all these districts," reads the message on the Embassy's website.
Just on Monday this week the United Nations announced the pulling out of its staff from the districts where fears of vampires are triggering mob violence.
"These districts have severely been affected by the ongoing stories of blood sucking and possible existence of vampires," the UN Department on Safety and Security (UNDSS) said in a statement.
Despite their alleged attacks, there is no evidence vampires actually exist. In Malawi, the problem is fuelled by the widespread belief in witchcraft.
Centre for Solutions Journalism executive director Brian Ligomeka said it was not surprising that the rumours are only confined to districts whose many residents hold superstitious beliefs on many things.
"I know how some people attribute almost everything to use of charms in the affected districts. Fortunes and misfortunes, wealth and poverty, success and failure, good health and illness are usually attributed to magic amongst many people in these districts.
"Oh, yes even if entrepreneurs have their businesses flourishing in these areas, people are quick to assume that magic is at work,"
According to Ligomeka, education is the best weapon that can be used to fight primitive practices.
"When you are uneducated, poor and living in rural areas chances are high that you will be a victim of primitive cultural practices and the accompanying paranoia. Such paranoia does not exist in areas where literacy levels are high because people are knowledgeable," he said.
Ligomeka said the vigilante killings were human rights abuses which should be stopped.
"The killers should face justice," he said.
Recurrence
Similar rumours emerged in 2002 with allegations that vampires were working with Malawi's government to collect blood for international aid agencies.
Former president Bakili Muluzi rubbished such rumours declaring: "No government can go about sucking blood of its own people. That's thuggery."
He even mocked some of the gossipers as to who could be interested in blood some of which is highly infected with HIV and the rumours eventually died down.
People have believed in blood-sucking vampires, for many centuries. In some European countries similar beliefs were rampant during the Middle Ages.
Some people ended in digging up dead relatives to burn their hearts under the belief they were vampires which were responsible for various plagues.