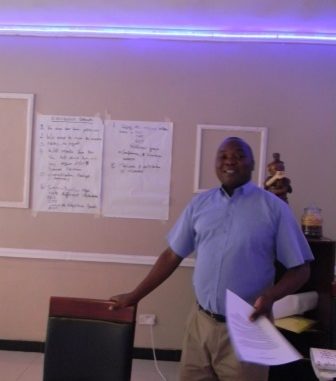 A woman recounts how she lost her uterus in unsafe abortion. Writes BRIAN LIGOMEKA – executive director of the Centre for Solutions Journalism – who was in central Malawi conducting abortion law reform advocacy work.
With rivulets of tears rolling down her cheeks, 37 year-old Edina Phiri from central Malawi's district of Dowa recounted how she tragically lost her uterus.
"I was still breastfeeding my baby who was only six months old when I realized that I was pregnant again. I discussed the issue with my husband and we resolved to terminate the pregnancy so that we could give good care to our six month-old baby," she narrated.
Realising that it was not possible to terminate the unwanted pregnancy at Dowa District Hospital, because abortion in Malawi is criminalized, Edna and her husband decided to seek the services of a traditional healer.
"When I drank the herbal concoction which the traditional healer gave me, I started bleeding heavily. The situation got worse on the second day after procuring an abortion as I could not even walk. I endured great pain," she said.
As her health deteriorated, her relatives hired an ox-cart which fetched Edna to Dowa District Hospital.
"When I arrived at Dowa Hospital, the health workers said my situation was grave and I was rushed to Kamuzu Central Hospital in [Malawi capital] Lilongwe," she said.
Edna was admitted to the referral hospital for eight days where she received post-abortion treatment and care.
"I spent the whole week in the hospital. After examining me, doctors told me the best way to save my life was to remove my uterus," she said while sobbing.
Her miseries never ended with the loss of her womb.
"When I told my husband that doctors had removed my womb, she divorced me. I wept for almost three days when he divorced me. I was heart-broken to see the man who identified the traditional healer who gave me the herbs divorcing me just because I had lost my uterus," she said.
Magnitude
Edna is not the only woman to endure such hardships in the southern African nation of 18 million people.
According to research, conducted by the US-based Guttmacher Institute and the Centre for Reproductive Health at the University of Malawi College of Medicine up to 141,000 abortions occur in Malawi annually.
"The majority of these procedures were performed under clandestine and unsafe conditions and often resulted in complications," observes the research.
Malawi has one of the highest maternal mortality ratios in the world… Unsafe abortion is one of the major causes of maternal death in the country. According to recent estimates, complications from abortion are the cause of 6–18 percent of maternal deaths in Malawi.
"Restrictive abortion laws do not stop abortion from occurring, they just drive it underground, forcing women to resort to clandestine procedures, which are often unsafe," says study co-researcher Dr. Chisale Mhango, senior lecturer at the University of Malawi's College of Medicine.
The research found that in 2015, an estimated 60 percent of women who had an abortion experienced complications that required medical treatment in a health facility.
"Helping Malawian women avoid unintended pregnancy is critical to reducing the incidence of abortion and the complications and deaths that often follow unsafe, clandestine procedures," says Dr. Chelsea Polis, senior research scientist at the Guttmacher Institute and lead author of the study. "Our study found that in 2015, more than half of all pregnancies in Malawi were unintended, and almost one-third of those unintended pregnancies ended in abortion."
Solution
The researchers recommended strengthening Malawi's family planning programmes to ensure that all Malawians can use their preferred contraceptive methods correctly and consistently as one strategy of reducing unsafe abortion.
"Doing so will help reduce the number of unintended pregnancies and therefore reduce the need for abortion. They also note the importance of continuing to expand postabortion care services so that every woman who experiences complications from an unsafe abortion can get the care she needs," reads the study report in part.
The researchers also suggested the need to expand access to safe abortion care could reduce the number of women who experience complications from unsafe abortion
Commenting on the development Passion for Girls and Women executive director Darlington Harawa said the enactment of new abortion law could offer a solution to the problem.
"Whether anyone likes it or not, there the law criminalises it or not, some women end up having unwanted pregnancies due to factors such as rape, incest, defilement and contraceptive absence or failure. The law in Malawi has miserably failed to stop women from terminating their unwanted pregnancies," he said.
Harawa said offering safe abortion services is cost-effective and does not result in complications or deaths.
"If abortion was legal in Malawi, health workers would just be taking few hours to either do the procedure usually through Manual Vacuum Aspiration or administer drugs such as misoprostol. Since abortion is illegal, health workers take almost a week to offer post-abortal care and treatment to women who have sustained complications from unsafe abortions," he said.
"It is easier to prevent injuries and complications from unsafe abortion by simply offering medical abortion services, rather than outlawing such services" he said.
Some studies estimate that currently Malawi government spends up to US$1 million per year on Post- Abortion Care (PAC).
"The median cost per Dilation and Curettage (D&C) case ($63) was 29 % higher than Manual Vacuum Aspiration (MVA) treatment ($49). Costs to treat severe non-surgical complications ($63) were almost five times higher than those of a simple Post Abortion (PAC) case ($13)," a study on the Cost of Unsafe Abortions in Malawi revealed in 2009.
The study findings added: "Severe surgical complications were especially costly to treat at $128….. Transition to safe, legal abortion would yield an estimated cost reduction of 20 to 30 percent."
It is not only national studies that show that unsafe abortions drain public coffers but also international studies.
A study by Guttmacher Institute pegged the annual cost of treating women for complications of unsafe abortions at $232 million.
The study led by Dr. Susheela Singh published in BJOG – an International Journal of Obstetrics and Gynecology stated that while $232 million is just for those who actually go for treatment.
It estimated the cost for treating all the women who actually need it would be more than $560 million.
Change the law
Calls for Malawi to immediately enact the draft Termination of Pregnancy Bill are growing louder and louder.
A group of women from Kasungu District told csjnews.org that they have joined the campaign pressing for abortion law reform in Malawi.
Their advocacy strategy is innovative. The women campaign for abortion law reform through songs and traditional dances they perform at public functions.
"We have lost many women and girls due to unsafe abortion and we can no longer remain silent about it," said one of the women in an interview.
Commenting on the issue, Senior Chief Lukwa said it was indeed true that Kasungu is one of the districts with high rate of unsafe abortions.
"We are losing a lot of women due to unsafe abortions. I don't understand why some people are opposing abortion law review. As a Senior Chief, I openly advocate for enactment of the new Termination of Pregnancy Bill because I do not want my subjects to be suffering from complications of unsafe abortions," he said.
The law
Currently, Malawi's law on abortion, which was written in 1861, states that the procedure is allowed only if it is necessary to save a woman's life.
With that law in place any woman who terminates her pregnancy, as well as anyone who assists her, faces up to 14 years jail sentence.
A new Termination of Pregnancy bill has been proposed by the Malawi government which if enacted it will give women access to abortion services.
The new bill expands the circumstances in which a woman is allowed to have an abortion.
Reproductive health activists still believe that the new law is not liberal enough.
Chrispine Sibande, national coordinator for the Coalition for the Prevention of Unsafe Abortion, argues that from a human rights perspective and from a women's rights perspective, this law is not good enough.
"It does not provide for abortion-on-demand, like the laws in South Africa, Mozambique, Seychelles and Cape Verde. You need to provide women with a choice to terminate pregnancy. It also does not provide for termination of pregnancy due to economic reasons, like the Zambian law. Good laws include termination-on-demand," he said.
Edna supports the idea that abortion in Malawi should be on demand instead of having a new law which still maintains restrictions on access.
"If abortion in Malawi was on demand, I would not have lost my uterus and I believe my marriage would not have collapsed," she said.
As activists, conservative religious leaders continue to oppose the law reform.
"Abortion is a sin and should not be condoned," argues Pastor Nick Chakwera of Malawi Assemblies of God.
But other religious leaders have started supporting Malawi government for its decision to review abortion laws.
"Since the laws have been reviewed in order to save women lives, I am in full support of the law review. I do not think there is any church leader who would be happy to see his or her members dying from unsafe abortions. Let the government enact this new law as quickly as possible in order to save women and girls who die as a result of procuring unsafe abortions," observes Reverend Martin Kalimbe, who is a Board Member of Centre for Solutions Journalism – Malawi.