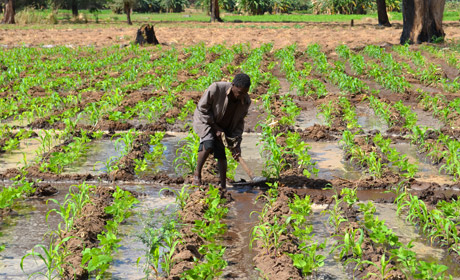 Farmers strong belief: Good rains may end Malawi's hunger crisis. Some farmers in southern and eastern Malawi believe that the onset of good rains may end hunger crisis in the southern Africa nation.
"We are receiving good rains and our crops are giving us optimism that they may end the hunger crisis. If the pattern continues, we will get high yields in April," said Ephraim Buleya from Mulanje district.
The same sentiments were echoed by Jenipher Lifred, a farmer from Thyolo, who told csjnews.org that good rains will enable them attain food security at household level.
"We thank God for the rains. Malawi's hunger crisis may end soon. It seems days of depending on food handouts from well-wishers will be over," she said.
Malawi's Department of Climate Change and Meteorological Services says most areas in the Southern region have received enough rains since the onset of the rain season.
The department's Head of Public Services, Eleanor Kululanga told Malawi News Agency that according to their weather systems, a lot of districts in the southern and eastern Malawi will continue receiving the rains.
She said people should expect more rains as the season progresses therefore advising them to pay attention to the weather forecasts the department releases.
Commenting on the same, Principal Agriculture Meteorologist Adams Chavula advised farmers all over the country to seek more advice from Agriculture Officials if they are not sure on whether to plant or not to plant their crops.
Good Rains, Good news
In its recent 'Food Security Outlook Update,' the Famine Early Warning Systems Network (FEWS NET),  a leading provider of early warning and analysis on food insecurity also says by the end of first quarter next year food situation may improve in Malawi.
"Food  consumption  is  expected  to  improve  in  the  late  February  to  May  period  as  most  of  the  households  start consuming green foods in addition to harvesting dry crops from the 2016/17 production season," reads the report in part.
It adds: "Very poor and poor households will continue to search for weeding and other agricultural related labor. In addition to this, households will be exploiting natural resources such as the collection of firewood and making charcoal for sale."
According to FEWS NET, middle and better-off households will continue engaging in desperate livestock sales to gain incomes for food and non-food purchases.
Current Situation
Meanwhile at the moment many Malawians are still struggling.
Malawi's recent formal and informal import levels are too low to satisfy the estimated deficit for the current consumption year.
As of late October, only about 150,000 metric tones formal imports (mainly from Zambia) had been assured.
The state grain marketer (Agricultural Development and Marketing Corporation (Admarc) opened in late October and began selling subsidized maize at US$0.34 per kilogramme which is more than double the price during the previous marketing season $0.15.
Some consumers who are finding prices at Admarc selling points to be too high are opting for cheaper markets offered by private traders.
Future strategy
Malawi President Arthur Peter Mutharika said recently that irrigation is the key strategy for addressing the country's food security issues.
He said this last month when he launched two key national blueprints that will guide agriculture and irrigation policies.
Mutharika bemoaned that while Malawi has estimated potential of 407,8621 hectares for irrigation, only about 104,6342 hectares have been developed.
Hunger crisis
Malawi is not the only country to be battered by drought as other countries in southern Africa are facing similar challenges.
During the last rainy season (October 2015 to March 2016), the entire region experienced an El Niño-induced drought that crippled rain-fed agricultural production.
The subsequent April 2016 harvest proved meagre, with a regional maize production shortfall of 9.3 million tons. This was the second consecutive poor rainfall season in the region, deepening vulnerabilities that are also exacerbated by a major economic downturn.
The governments of Botswana, Lesotho, Malawi, Namibia, Swaziland and Zimbabwe declared national emergencies during the year, while Mozambique activated a Red Alert to mobilize resources and speed up the response.
On 26 July 2016, the Southern African Development Community (SADC) declared a regional drought emergency and launched a regional humanitarian appeal.
While Malawians are optimistic that better days are coming due to the onset of good rains in its southern province, some experts say the impact of El Niño on food security and agricultural livelihoods will continue to be felt until the next harvest in April 2017.  Additional reporting by Malawi News Agency