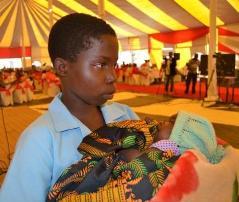 Female chiefs in Malawi are waging war against child marriages. While the fight is still far from over, progress is being registered. BRIAN LIGOMEKA  reports.
Tears of joy meander on the cheeks of 17-year-old Nomsa from Malawi's central district of Dedza whose marriage with a 30-year-old shop-owner has been annulled.
Having been rescued from a forced marriage, she now wants to achieve her ambition of becoming a nurse.
"Despite the hell I went through when my parents forced me into child marriage, I am excited that I am back at school," says Nomsa.
She adds: "Much as my parents insisted that marriage was a solution to poverty, I never experienced any happiness at all. My husband used to beat me due to petty reasons. I almost died when I was giving birth at the age of 16. I bled profusely during that terrifying delivery."
Nomsa's experience reflects the harsh reality of many girls in Malawi, which has one of the highest rates of child marriages. One out of every two girls is married before the age of 18, with some as early as 12 years.
In many parts of Malawi, child marriages are regarded as a source of income as the girls' families get payment of dowry (lobola).
Female chiefs' intervention
While her family insisted that she remained in unhappy marriage, Nomsa was fortunate that one day as she returned from an under-five clinic with her baby strapped on her back, she met Chief Theresa Kachindamoto.
"Where is the mother's baby?" asked the chief.
"I am the baby's mother," replied Nomsa, not knowing that her response infuriated the chief who asked the name of the baby's father.
Within one week, the chief spearheaded the dissolution of the marriage.
That was not the only marriage the chief has broken up as over the past three years, she has successfully dissolved over 850 child marriages.
But how did her passion of fighting child marriages start?
"The moment I returned home to take over the throne after resigning as a college secretary, I saw my friends who were forced into marriage at a young age languishing in poverty. I immediately knew child marriages are an evil that should be stopped," she said.
Believing that good education is a weapon which should be utilised to fight poverty, Kachindamoto looks forward to the day every youngster will be educated up to college level.
Her crusade against social injustices goes beyond ending child marriages as she also wages war on traditions that harm vulnerable women.
Strategy
Kachindamoto's strategy involves the inclusion of chiefs who are held in high esteem and are regarded as custodians of culture. The chiefs have become warriors responsible for breaking archaic traditions."
Together with her subordinate chiefs, she formulated by-laws whose key element is the banning of child marriages and annulment of existing marriages of persons aged below 18 years.
Apart from her junior chiefs, over the years Kachindamoto has been soliciting support from several organisations.
"I am happy that over 850 marriages have been annulled in my area in the past three years," she says.
All has not always been rosy as her campaign faces challenges including failure by some subordinate chiefs to enforce the by-laws, in an apparent open defiance to her guidance.
"When my chiefs ignore the by-laws, I take drastic action. Last year, I dethroned three chiefs for allowing teen marriages in their areas. I only reinstated them later when they annulled the child marriages and paid a fine of two goats each," she said.
Kachindamoto is not the only female chief in Malawi fighting child marriages as others have taken the same route. Another female chief who is making a difference in her area is Chief Mwanza from the lakeshore district of Salima.
She has a personal reason for fighting child marriages. "My experience of dropping out of school and getting married off by my grandmother at the age of 14, gave me the impetus to fight the malpractice when I became chief," she says.
Today, Chief Mwanza does not want to see any girl-child experience the problems she faced during her upbringing, which included becoming a teen mother and being subjected to gender based violence in a forced marriage setup.
"I am a gender-based violence survivor and hence I don't want any girl to experience what I suffered. I have banned child marriages without even blinking because I suffered in forced marriage," says Mwanza.
In southern Malawi's district of Chiradzulu, Chief Chitera is another gallant fighter of child marriages.
"If we are to succeed as a nation, we need to invest in education and girls should not be left in that regard. Young girls should be in schools and not in marriages or bars," she told csjnews.org
The battle is not only fought by about 30 female chiefs in the Southern African nation which has a total of 260 traditional chiefs but also their male counterparts.
Malawi's Civic Education Minister Patricia Kaliati, herself an anti-child marriage campaigner, praises traditional leaders for their contribution in the promotion of girl-child education.
"Over the past two years, Malawi has successfully abolished about 600 000 child marriages. This is not a mean achievement. The Marriage, Divorce and Family Relations and Trafficking in Persons law enacted last year have given us teeth to bite," says Kaliati.
She attributed the dissolution of the 600,000 marriages to collaborative efforts from the government, traditional leaders, United Nations agencies and non-governmental organisations.
According to Kaliati, while chiefs have put in place by-laws to ban teen marriages, churches have played a pivotal role by refusing to officiate unions whose brides or grooms are underage.
With chiefs, churches and NGOs fighting child marriages, it is not only Nomsa who will realise her dream, thousands of Malawian girls are benefiting from the crusade as the battle continues.
Challenges
All has not always been rosy as the campaign against child marriages as some subordinate chiefs resist to enforce the by-laws, in an apparent open defiance to her guidance.
"Some of my subordinate chiefs ignore the by-laws. I get into the extra trouble of taking drastic action against them. Last year, I dethroned three chiefs for allowing teen marriages in their areas. I only reinstated them later when they annulled the child marriages and paid a fine of two goats each," Kachindamoto said.
While some appreciate her efforts, others accuse of turning her area into a petticoat chiefdom. Most of her critics are conservatives and grooms whose marriages are annulled. One groom whose marriage was dissolved called the chief "a cultural misfit and a huge mistake to happen among the Maseko Ngoni."
He faulted the members of the royal family who appointed her as chief.
"The spirits of our great patriarchs Ngwana Maseko and Mputa are angry with what is happening amongst us. How can a warrior tribe of the Ngoni allow a woman to be a paramount chief?" asked the groom who spoke on condition of anonymity for fear of reprisals.
He said the installation of Theresa Kachindamoto as a chief was a huge mistake that would haunt the Maseko Ngoni for a long time.
"Amongst the Maseko Ngoni, it is the son who succeeds his father to continue with the royal lineage. The question is where will the chieftaincy go after, the current female Kachindamoto? Her sons are not Kachindamotos, so who will succeed her?" asked the frustrated groom.
But the chief dismisses such concerns saying that the royal family has many members who can succeed her.
Child marriages
Child marriage is widespread and can lead to a lifetime of disadvantage and deprivation.
Unicef data released in 2014 show that while prevalence has decreased slightly over the past three decades, rates of progress need to be scaled up dramatically, simply to offset population growth in the countries where the practices are most common.
According to Unicef, more than 700 million women alive today around the globe were married as children. More than 1 in 3 – or some 250 million – were married before 15.
The setback is that girls who marry before they turn 18 are less likely to remain in school and more likely to experience domestic violence. Young teenage girls are more likely to die due to complications in pregnancy and childbirth than women in their 20s; their infants are more likely to be stillborn or die in the first month of life.