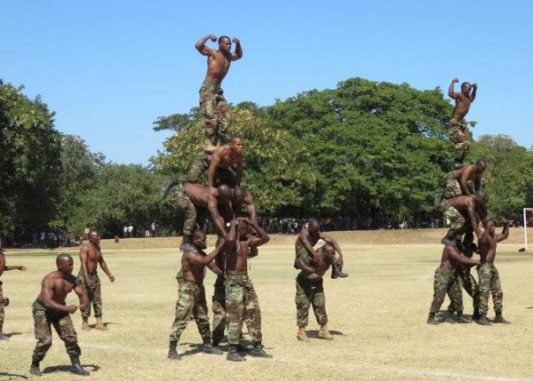 Malawi government is trying a new way to protect its fast-dwindling forests: military deployment.
With deforestation threatening the capital's water supply, the government has launched 24-hour military patrols of the country's major forests, with authorisation to arrest loggers and confiscate their equipment, said Sangwani Phiri, a spokesman for the Ministry of Natural Resources, Energy and Mining.
The move is "a bid to avert unwarranted illegal cutting down of trees," he said in a telephone interview with the Thomson Reuters Foundation.
The strategy, using soldiers from the Malawi Defence Forces (MDF), is one already being used by other southern African countries including Botswana and South Africa, and is common practice in parts of other countries, including India and Vietnam, he said.
Malawi's government estimates that the country's 3.4 million hectares (8.4 million acres) of predominantly natural forests are being depleted at a rate of 1.8-2.6 percent annually, largely for charcoal production.
"We are targeting all forest areas across the country, but we are starting with the Mua, Livulezi, Dzalanyama, Viphya and Mulanje Mountain forests, whose rate of depletion has been worrisome," Phiri said.
The deployment follows what he described as a successful pilot programme in the vast Dzalanyama Forest, which spreads across the Central Region districts of Dedza and Lilongwe. The programme began in February 2015.
Confiscation
Lieutenant Wilned Kalizgamangwere Chawinga, a staff officer in the MDF Public Information Office, said troops will conduct patrols 24 hours a day in the forests, as they have been doing in the pilot programme.
"We detain illegal loggers and charcoal producers and snatch their vehicles and any other equipment used," he told Thomson Reuters Foundation by email.
"We take everything confiscated to the nearest MDF installation, where owners come to claim them if they have appropriate papers, or after paying fines to the Department of Forestry," he said.
Chawinga said the soldiers also destroy charcoal kilns discovered in the forests.
"Apart from patrolling the forests, confiscating equipment and detaining those involved in illegal logging, MDF soldiers sensitise the public to the dangers of deforestation and encourage them to plant more trees," Chawinga said.
Rampant tree felling is having a severe impact on Malawi's water resources, experts say.
The cutting down of trees in Dzalanyama, for example, is threatening the Lilongwe River, which supplies the capital with water.
The drying river has forced the Lilongwe Water Board to ration supplies, cutting off some areas of the city from water for as long as four days at a time.
John Paul, a climate change expert at Total LandCare, an African-based non-governmental organisation, said that as forests reduce in size they emit less water vapour which reduces rainfall, leading to lower levels of water in rivers and other waterways.
Deforestation also increases the rate of evaporation from water bodies already depleted by lack of rain, he said.
"Forests are carbon sinks and the absence of them raises temperatures, because when there are no forests, atmospheric carbon dioxide increases," he said. That leads to faster global warming, he said.
Water losses
Edward Nyirenda, a spokesperson for the Northern Region Water Board, welcomed the involvement of soldiers in protecting forests, describing the rate at which forests are disappearing in its water catchment areas as "gravely worrying".
"The situation is not good due to wanton cutting down of trees," Nyirenda said. "Deforestation is affecting the quantity and quality of our raw water sources."
Apart from reducing supplies of water, deforestation has also led to more eroded soil in the water supply, requiring more costly processing, he said.
Over the past few years, drought and erratic rainfall across the country have affected water levels in Lake Malawi, according to the Electricity Supply Corporation of Malawi (ESCOM).
The utility says that dwindling water levels in the lake have affected its ability to produce hydroelectric power on the Shire River, the sole outlet from Lake Malawi.
ESCOM has been rationing power supplies, which raises demand for alternative sources of energy, including charcoal. This in turn has increased the pressure on forests.
Phiri said that besides deploying soldiers to guard forests, the government is training forest rangers who it will "arm to the teeth for any crucial battles" that arise in the effort to guard the forests. He said the rangers would later take over from the soldiers in guarding the forests.
"Government will continue with efforts to find the best possible ways of protecting and preserving our remaining forest cover," Phiri promised.
This article was first published by Thomson Reuters Foundation