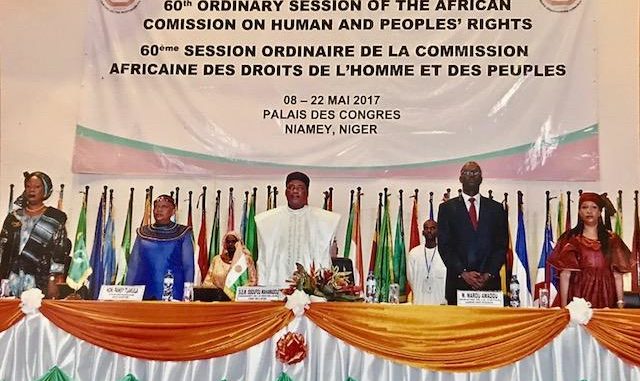 The African Commission on Human and Peoples' Rights has taken on issues of sexual orientation and gender identity, topics that some may have considered too "controversial" but that fall squarely within the ambit of human rights.
I represented Human Rights Watch at the commission's 60th ordinary session in early in May in Niamey, Niger. Human rights defenders and organizations that work to protect the rights of lesbian, gay, bisexual and transgender (LGBT) people in some of the most hostile countries in the region have spent many years and resources advocating at the commission.
These efforts have finally paid off, and the commission is mainstreaming sexual orientation and gender identity in its work. This took courage because in 33 African countries, adult same-sex acts are illegal, including 24 that criminalize lesbian acts, and many other countries have recently passed laws that restrict and punish groups that work on sexual orientation and gender identity issues. LGBT people are harassed, threatened, and even killed in some places, including in South Africa, which has better laws in place. That the commission is now actively addressing these issues is an important if largely unheralded step.
The commission had a full agenda in May, as Commissioner Pansy Tlakula, the chairperson, noted in her opening statement, citing: "reports of extra-judicial killings, harassment of human rights defenders, increased restrictions to civil society space and reports of disproportionate use of force and violence to dispel peaceful protests."
Many of these human rights abuses include the element of discrimination against LGBT people. So, it is especially significant that the commission has been addressing this issue, including in its concluding observations and recommendations to African Charter member countries. Over the past few sessions, the commission has explicitly included sexual orientation and gender identity in its soft law instruments — that is, its general comments, resolutions and guidelines, building on its April 2014 resolution 275 on protection against violence and other human rights violations against persons on the basis of their real or imputed sexual orientation or gender identity. Even if these documents don't have the force of law, they are influential throughout most of Africa in raising important issues and helping countries set their own agendas for human rights protections for LGBT people.
The commission's May 8 general comment on torture is a case in point. It notes that anyone, regardless of their gender, may be a victim of sexual and gender-based violence that amounts to torture or ill-treatment. And in this regard, "lesbian, gay, bisexual, transgender and intersex persons are of equal concern." So-called "corrective rape" and forced anal testing are expressly listed as acts of sexual and gender-based violence that may amount to torture and ill-treatment under the African Charter.
On May 10, the commission issued guidelines for training law enforcement officials on policing assemblies. It makes clear that African governments need to protect people and groups who are particularly vulnerable to limitations on their right to assemble freely, including because of their sexual orientation and gender identity.
Commissioner Reine Alapini Gansou, the special rapporteur on human rights defenders in Africa, presented an intersession activity report that highlighted harassment against human rights defenders working on sexual orientation, gender identity and expression, and sexual and reproductive health rights. The report recommends that countries "remove punitive and restrictive laws, policies and practices that undermine the rights to freedom of association and assembly," including those based on "sexual orientation, identity and expression of gender." This is especially significant, considering laws passed in Nigeria (and passed but later nullified in Uganda) that criminalize work on sexual orientation and gender identity issues by human rights defenders.
In his intersession activity report, Commissioner Lawrence Mute, chairperson of the Committee for the Prevention of Torture in Africa, notes that the use of forced anal examinations to prove homosexuality may amount to torture under the African Charter, and he urges states to "respect and protect the rights of persons or groups at heightened risk to acts of torture and other ill-treatment, including… .lesbian, gay, bisexual, transgender and intersex persons."
The special rapporteur on prisons, conditions of detention and policing in Africa, Commissioner Med Kaggwa, presented Draft Principles on the Declassification and Decriminalization of Petty Offences in Africa, calling on countries to address "the root causes of other marginilisation, including measures which criminalize same-sex conduct, drug use and sex work."
Tlakula, the chairperson, and Commissioner Reine Alapini-Gansou, both of whom have been instrumental in advancing the human rights of Africans subjected to violence and discrimination based on sexual orientation and gender identity, have completed their terms on the commission. But they have laid the groundwork for further work on human rights issues that may have previously been considered too "controversial" to touch.
Africa-based nongovernmental organizations and human rights defenders involved with the commission's work should be fully supported in speaking out, pointing to this body of soft law, and encouraging local and regional leaders to apply African human rights standards to sexual orientation and gender identity issues. And the commission should continue to interpret the African Charter in a manner that ensures the protection and promotion of human and peoples' rights for all Africans.
Wendy Isaack is a researcher in the LGBT rights program at Human Rights Watch. Prior to joining Human Rights Watch, Wendy worked as Adjunct Professor at the Human Rights and Gender Justice Clinic, City University of New York (CUNY) Wendy holds a master's degree in Public Administration (MPA) from Harvard University's Kennedy School of Government and a master's degree in International Law from the University of Ulster in Northern Ireland.