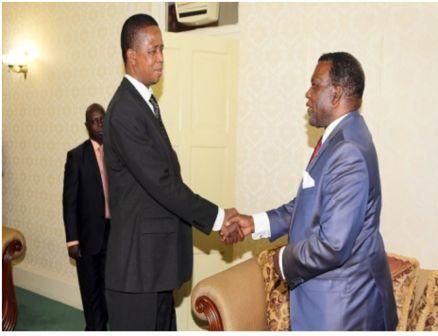 Malawi President Peter Mutharika has sacked his embattled Agriculture Minister George Chaponda over his alleged involvement in a scam involving importation of 100,000 tons of maize from neighbouring Zambia.
Malawi government's twitter handle @MalawiGovt on Wednesday tweeted: "Latest News: #Malawi President Prof. Arthur Peter Mutharika has sacked Minister of Agriculture Dr. George Chaponda."
Chaponda has not yet been replaced.
The sacking comes after graft busters in the southern Africa's nation on Tuesday raided a house belonging to Agriculture Minister George Chaponda, seizing $276,000 cash in the process.
Anti Corruption Bureau (ACB) deputy director Reyneck Matemba said in an interview that during the raid the investigators seized cash in both local and foreign currencies amounting to $276,000.
He explained that the graft busting body deposited the money with the central bank for safe-keeping.
The raid followed a recommendation by commission of inquiry that probed transactions surrounding Malawi importation of 100,000 tonnes of maize from neighbouring Zambia at an inflated price of $34.5 million.
The inquiry last week recommended that the graft busting body should probe the role the Malawi agriculture minister played in the matter as his conduct of involving intermediaries was "suspicious."
Matemba has, however, said it was too early to connect the cash seized from the minister's house to the maize importation scam.
"As ACB we are not saying the figures are connected to the maize issue, no. It will be too premature to say so. Our investigations are still underway," Matemba said.
Commission findings
The Presidential Commission of Inquiry on the Zambia-Malawi maize saga recently called for a probe on Chaponda for his roles in the maize deal.
Presenting its findings to Mutharika, the Commission's Chairperson, former Chief Justice Anastanzia Msosa faulted the minister's involvement with a Malawian company, Trans Globe Limited saying it smacked corruption.
"We found that the procurement of the maize was flouted with discrepancies in such that government procedures were not followed and Minister of Justice and Constitutional Affairs as government's legal advisor was by-passed," said Msosa.
She said the Commission found that "the conduct of the Minister of Agriculture, Irrigation and Water Development [George Chaponda]  in dealing with Trans Globe Limited was suspicious".
The Commission in its recommendations called for further investigation on Chaponda by the Anti-Corruption Bureau (ACB) on his involvement with Trans Globe Limited.
The scandal
The scandal involving Malawi's importation of 100,000 metric tonnes of maize from neighbouring Zambia has been haunting both nations.
Senior politicians and bureaucrats in Malawi and Zambia are under fire over their controversial handling of $34.5 million maize deal.
Local media reports alleged possible irregularities during a government purchase of 100,000 metric tonnes of maize from Zambia.
According to the paper, Malawi's state-owned grain marketer, Admarc, purchased a consignment of maize for $34.5 million from a private company instead of buying the maize directly from the Zambian government at $21.5 million.
Malawi had been importing maize from neighbouring countries to feed 6.5 million of its citizens who are in need of food aid.