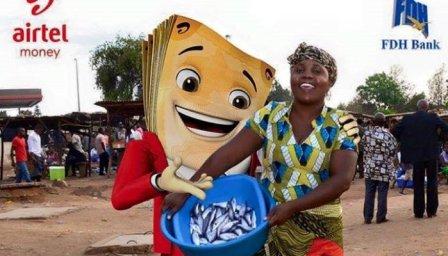 Cellphones through mobile money services are expanding the reach of financial services more than traditional bricks-and-mortar banking. The technological diffusion is benefitting everyone including poor people with no bank accounts and no credit history. BRIAN LIGOMEKA writes
The dilapidated grass-thatched houses in Ndanga Village in southern Malawi's district of Mulanje tell one distressing story. Poverty still reigns supreme in the village just as is the case in many villages in Malawi.
Despite the obvious signs of poverty, there are some villagers who are defying the odds. One of them is a single mother, 38-year-old Abiti Maria Fundi. Owning a two-bedroom house roofed with corrugated iron sheets apart from having a herd of sixteen cattle and chickens is no mean achievement in a village where others are living on less than $1.25 a day.
In an interview, Fundi revealed that her secret of success is her mobile phone."The mobile phone is the greatest asset I have. I get tips on farming and health issues through my phone."
Fundi explained that she is now a contented woman as the problem which haunted her for years is now history because of the mobile phone.
"My biggest problem was how to save and keep money safely. I used to keep my money under the mattress. Nowadays, I have a secure and convenient bank in my pocket. Airtel money e-wallet has proved to be the best solution to my problem," she said.
She said cumbersome demands by commercial banks discouraged her from opening an account in the past.
"Different banks refused to open an account for me because I did not have a passport, a driving licence and a national ID. Some were even demanding water bills yet we draw from a borehole," she narrated.
Following her failure to open a bank account, she was forced to be keeping her savings under her mattress.
Solution
Thanks to the introduction of mobile money services, her problem has a solution. It's her mobile phone's e-money wallet.
"Airtel money service is a mobile convenient bank in my pocket," Fundi said praising the mobile money innovation for expanding the reach of financial service.
She is not the only villager singing praises of the innovation as Esmie Biziwiki, a housewife from the same district hails the mobile money services for another reason – the ability to receive monthly remittances from her husband who works in Malawi capital, Lilongwe.
"In the past my husband it would take a week for me to receive money sent by my husband using post office's registered mail. At present, as a subscriber of Telekoms Network Malawi (TNM) Mpamba service, I receive the money in just few minutes, once my husband makes the transfer," she said.
According to Biziwiki, even her uncle who is in South Africa is able to send her money through cross-border network service.
Growing business
Mobile money services in Malawi date back to 2012 when Airtel Money was launched with TNM following in 2013. Since then, the number of customers has been growing.
A December 2016 National Payment System Report by Malawi's central bank indicated the country has 3.4 million subscribers for the country's two non-bank wallet based mobile payment schemes.
With a combined agents of about 24,400 spread throughout Malawi against 490 banking outlets, mobile money services are not only used by the unbanked citizens but also by those with bank accounts.
Both Airtel and TNM have established links with financial institutions in order to add greater depth to their mobile money product offerings and leverage on existing agent networks. In typical partnership, subscribers with mobile money accounts with telephone operators and deposit accounts with banks are able to transfer money between these accounts.
Currently, rural villagers like Abiti Fundi who were once frustrated with banking sector's rigorous Know Your Customer vetting system are now beneficiaries of the banks-mobile phone companies' partnerships.  Airtel Malawi, for instance, introduced Kutchova (easy-help) loans which are disbursed through its partnership with First Discount House (FDH) Bank.
Airtel Money Kutchova loans have an advantage because subscribers do not require collateral or paper work because what they need are just their e-wallets with the mobile phone company to access the loans anytime anywhere.
On its part TNM's service called Mpamba Fesa (Sow Capital) designed with Old Mutual enables customers an opportunity to invest their money on the money market.
According to TNM Chief Commercial Officer Daniel Makata, Mpamba Fesa allows any e-wallet holder to invest and earn interest on their investment.  "The Mpamba wallet holder is able to access the money, by simply disinvesting whenever they need it for other uses."
Widespread initiative
Mobile phones have expanded access to financial services throughout Africa where only 20 percent of families have formal bank accounts, according to one World Bank survey.
While mobile money is regularly reported as lucrative business for Africa's major economies such as Kenya, Nigeria and South Africa, the innovation has not spared least developed countries on the continent.
In semi-autonomous region of Somalia called Somaliland, for instance, where commercial banks are reluctant to operate, residents depend on mobile payment service. Somaliland's mobile network operator, Telesom offers an e-wallet service called 'Zaad' and another operator Somtel International with Dahabshiils group offers E-Dahab service. As with normal mobile money systems, Somalis are able to transfer, receive, and deposit money with Zaad and E-Dahab.
Mobile phone industry lobby Global System for Mobile Communications Association (GSMA) in its recent report titled 'State of the Industry Report on Mobile Money' indicated that in 2015, some one billion transactions were processed globally through mobile money. The estimate translates to an average of 33 million transactions daily.
According to the report by the end of 2015, there were some 411 million mobile money accounts in existence globally in 93 countries and across 271 services. Of the 411 million mobile money accounts, 222.8 million were in sub-Saharan Africa, while South Asia had the next highest, with 102 million listed accounts
Challenges
Much as success has been achieved in the sector, some challenges exist. In rural areas, barriers like low financial literacy, limited trust amongst people who have never used financial services and absence of a national identification system in countries like Malawi makes it difficult for phone companies and agents to comply with KYC requirements for the unbanked.
A number of agents with limited cash and e-float to trade with also complain that withdrawal of large sums by some individuals affect their liquidity and services provision.
"I operate as an agent in the rural district of Chiradzulu. Typical withdrawals from a single subscriber ranges from K5,000 (about $7)  to K100,000 (about $139). But during month-ends some customers withdraw over K300,000 (about $417) at once. If five or six people withdraw such amounts we easily run out of cash," said Cecelia Mitiyani, an agent in an interview.
The problem of connectivity due to poor infrastructure of phone operators also forces some customers to wait for a long time to make withdrawals.  "Some impatient customers get annoyed when they are told wait for some minutes when the phone network of the mobile phone operator is down," said Mitiyani.
Diffusion
Despite existing challenges, the impact of digital technologies in developing countries is huge.  With villagers like Abiti Fundi in rural Malawi using e-wallets, mobile money has surely deepened financial inclusion.
Whilst the poster child of the mobile-money explosion in Africa is Kenya's M-Pesa, developments from all corners of the continent including Malawi demonstrate that the world has embraced digital technology.
At the current pace of technological diffusion, target 8 of United Nations Sustainable Development Goal 17 of "fully operationalising the technology bank and science, technology and innovation capacity-building mechanism for least developed countries by the end of this year and enhance the use of enabling technology, in particular information and communications technology," is poised to become a reality.