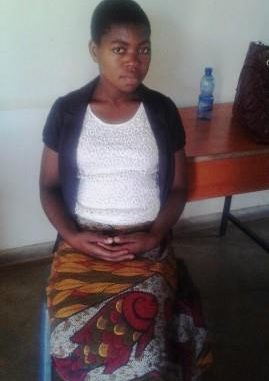 Unintended pregnancies are leading to high dropouts of girls from secondary schools and backstreet abortions. Malawi News Agency reporter SARAH MUNTHALI mulls over an incident whereby  38 girls have dropped out of one school in central Malawi's district of Mchinji. 
   It is a modern school, with a modern design. The grey bricks that form its stature, with shiny green roof tops, set it apart from the rest of secondary schools in central Malawi's district of Mchinji.
But it is not its beauty that is making Bua Community Day Secondary School (CDSS) an intriguing case. Rather, it is a sad tale of premature graduation of girls who are going back home as expectant young mothers in their droves.
A total of 38 girls decided to fall pregnant at the school in 2016/17 school calendar to the anger of their parents and school authorities.
Poverty, pure fantasy and peer pressure have been advanced as contributing factors to the proliferation of these pregnancies.
Take Regina Mkhuwa for example. She is an 18-year-old girl who was supposed to write her Malawi School Certificate Examinations (MSCE) this year. But as the exams are in progress, she is either home nursing her pregnancy or busy visiting one of the antenatal clinics in the district.
Regina attributes her current situation to poverty. She is the fourth born in a family of eight children. Her father is a watchman and her mother does piece works at Mchinji Boma. The income her parents generate is not enough to cover the family's needs.
"My family is unable to provide basic items like soap and clothes. That is why I started a relationship with a man who is a tailor to provide for me," says Regina who comes from Nyamawende Village in the district.
But since she got married, the man no longer supports her financially.
Then there is 16-year-old Siphiwe Banda. She too dropped out of school at Bua CDSS due to pregnancy. She was in Form Three.
Despite being on a bursary from a non-governmental organization, which paid her school fees, Siphiwe had her own reasons for getting pregnant. The reasons border on pure fantasy, a promise for a better life in marriage that never was.
"I fell in love with a boy who stays in Blantyre. He promised me a better future together if I got pregnant for him and I fell for his charms," Siphiwe says.
Sadly for her, the boyfriend – who is into electronics business – cut communications with her the moment he learnt about the pregnancy.
No help has come from the boy. And the burden falls on her helpless mother who cannot hide the shock of a heartbroken single parent.
"She was my only hope and being the first born, I thought she would finish her education," says 40-year-old Maggie Banda.
"Her father died when she was very young. I have tried my best to counsel her but it is obvious my advice fell on deaf ears."
Patricia Zadutsa is a teacher mentor at the school. She says peer pressure is also playing into this situation.
"When we talked to some of the girls, they said they got because they admired their friends who have babies," Zadutsa says.
The stories of Regina and Siphiwe represent the foul of educational disaster coming out of Bua CDSS. Some of the girls here are literary burning their potential futures, watching their dreams fold up in flames of vain regrets.
Located along the M12 Road from Mchinji Boma to the border with Zambia, Bua CDSS is a learning institution in a hopeless situation. Efforts to keep girls in school are disappointingly yielding no desired results.
The figure of 38 pregnancy drop outs, recorded between September last year to June this year, is the highest so far since the establishment of the school in 2004, and again since its relocation to new premises in 2012.
This scenario comes out despite different initiatives to keep the girls in school, according to the school's head teacher Ireen Zimba.
"We have mother groups and mentors who come to hold frequent sessions with the girls.  We also bring women role models women from different professions to inspire the girls. But it seems this is not working for us," Zimba says.
She adds that most girls seem to lack ambition and vision in the way they conduct themselves in and outside class.
Despite that, the school administration is still making efforts to address the situation.
"After this shocking revelation, the school held an interface meeting with parents, the civil society, traditional and religious leaders to find solutions on how we can help and guide our girls," Zimba says.
External intervention is also coming in to rescue the school, which has an enrolment of 215 girls against 250 boys.
Women's Hope for Change is a local non-governmental organization working in Mchinji on issues of empowering women and girls.
The organization conduct motivational talks by role models at the school and promises to continue dong that until the problem is solved, according to executive director Hellen Makukula.
"Despite this discouraging outcome, we still want to help the students realize their dreams through career guidance," Makukula says.
Her organization has promised to construct a girl's hostel so that students who travel long distance should live within the school's premises.
Acting district education manager for Mchinji Blessings Chinkhadze says it is high time the law took its course in penalizing men and boys who impregnate minors.
"These people need to be punished because they take advantage of the plight of poor girls," Chinkhadze says adding that the DEM's office will continue championing of girl-child protection and education.
Bua may not be the first school in Mchinji to hit the headlines with such news. In 2012-2013 school calendar, Sopa Community Day Secondary School registered 49 dropouts due to pregnancies.
But that does not exonerate Bua School from public scrutiny. Otherwise, the district will see many potential girls dropping out of school on the next leg of migration into a maternity ward.
National challenge
A research conducted University of Malawi – College of Medicine and Guttmacher Institute revealed that in 2015, there were 886,000 pregnancies.
The research indicates that 53% of pregnancies in 2015 were unintended, and close to one-third (30%) of these unintended pregnancies ended in abortion.
This is happening despite an improvement in modern contraceptive use in Malawi over the past decade in Malawi.
"Among married women aged 15–49, modern contraceptive use increased from 28% in 2004 to 58% in 2015. Among sexually active unmarried women in this age-group, usage increased from 24% in 2004 to 43% in 2015," discloses the study report,
It adds: "In Malawi, one in five married women and two in five sexually active unmarried women of reproductive age have an unmet need for contraception. That is, they want to avoid a pregnancy but are not using any contraceptive method."  With files from Emily Banda of Centre for Solutions Journalism