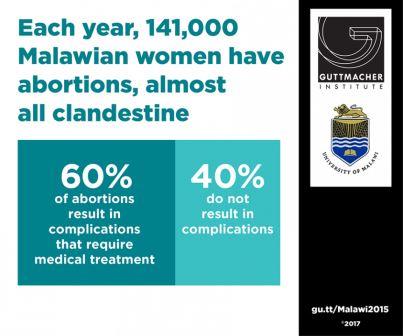 BY McCARTHY MWALWIMBA
Lawmakers in Malawi have been asked to pass the Termination of Pregnancy Bill so as to save women and girls who are dying from unsafe abortions.
Chiefs, religious and political leaders from all corners of Malawi asked the lawmakers after holding a meeting in Mzuzu.
In a communique read at the end of their two-day meeting Friday, the leaders bemoaned that the review and passing of the bill was delaying and taking too long when women in Malawi continue to die from unsafe abortion.
The leaders wondered why it was taking long to table and pass the bill when the Special Law Commission of Abortion Laws, which government through Malawi Law Commission empaneled in 2013 to review the laws, finished its work in July 2015.
The Special Law Commission consisted of representatives from Judiciary, Ministries of Health and Justice, Chiefs, Episcopal Conference of Malawi, Malawi Council of Churches, Muslim Association of Malawi, Law Society and College of Medicine.
"Together they proposed a bill on Termination of Pregnancy. We appreciate and note that all important sectors in Malawi were part of the Special Law Commission. Nobody was excluded. Everybody agreed. This is a bill that was agreed by all Malawians," the leaders said in the communique which was read by Senior Chief Makwangwala.
A research study by the University of Malawi's College of Medicine conducted in 2015 indicates that 53 percent of all pregnancies in the country are unintended and that 141, 000 abortions occur every year.
The study revealed that 30 to 40 per cent of admissions in gynecological wards in hospitals are due to abortion related cases and that 18 per cent of maternal deaths are due to unsafe abortion.
"We note with deep concern that unsafe abortion remains one of the top five causes of maternal mortality and morbidity in Malawi, where the most affected are poor women and girls," the leaders stated in their communique.
Under the current laws of Malawi, abortion is allowed through medical operation only to save a woman's life thereby criminalizing abortion for other reasons.
But despite the law, women and girls procure unsafe abortion for their unwanted pregnancies. They use dangerous materials and chemicals to terminate the pregnancies leading to deaths in most cases.
To this effect, the proposed Termination of Pregnancy law says abortion will remain a crime in the country when it is sought in health facilities for specific reasons in addition to saving the woman's life.
The new grounds for abortion include "preserving the physical or mental health of the pregnant woman, in cases of severe fetal malformation which will affect its viability or compatibility with life and in cases of rape, incest or defilement provided that the termination is done within 16 weeks of gestation.
"We call upon the Government and Parliament to pass the proposed Termination of Pregnancy Bill because this is what we agreed to address issues of maternal mortality and morbidity.
"We look forward to the passing of the proposed Termination of Pregnancy Bill if possible this current sitting of parliament," the communique concluded.