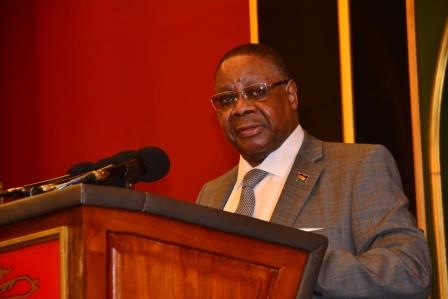 Lilongwe – Malawi has for the first time after 50 years of its independence issued biometric national identity cards (IDs) to 9 million eligible citizens.
The issuance of the 9 million national IDs follows the implementation of mass registration exercise completed within a six-month period spanning from May to November this year.
Various stakeholders have lauded the initiative with many descriptions such as "transformative milestone, fulfilled promise, landmark development and a guarantor of citizenship."
Malawians had to endure a long wait in order to get legal documents identifying them as bona-fide citizens.
Speaking at the end of national IDs mass registration exercise, Malawi leader Peter Mutharika said, everyone was excited about the introduction of national IDs.
He added: "We are here to make history. For the first time ever, Malawi has a legal identification system. Every Malawian now has a National Identity Card. This is transformation! The National Identity Card was my promise to the people of Malawi. I have always said – I promise what I do; and I do what I promise."
The initiative targeted to register 9 million Malawians but has so far beaten the target, courtesy of the desire of every eligible citizen to have a national identity card.
While mass registration is closed, there will be continuous registration at all times as citizens can still register at District Commissioners' Offices.
Only Malawians aged from 16 are being issued with the National IDs while those below qualify for the National Birth Certificates.
Mutharika explained that the benefits of having the national IDs are plenty.
"With a National ID, every citizen can now access banking services because banks feel secure to deal with legally identifiable citizens. With the National IDs, banks no longer have reason to deny services to our farmers, mothers and sisters living in rural areas," he explained.
He added: "The National ID Card is a game changer. With a legal identity of every citizen, we will now flash out ghost workers from the public service. We will save more money for public services."
There is also an expectation among many stakeholders in Malawi of an increase in e-commerce and online transactions because the national identity system steps up electronic security.
"Not long from now, we will now buying and selling our goods online more than ever. This is transformation," the Malawian leader said.
With every citizen owning a National ID, even the Immigration and Citizenship Services Department, government has warned that there shall be no excuse for issuing passports to crooked foreigners who parachute into Malawi to get passports fraudulently.
Several diplomats have also hailed the project as a great milestone.
European Union Ambassador to Malawi Marchel Germann branded it as a significant achievement that has put Malawi on track to achieve one of the targets under the Sustainable Development Goals on legal identity for all and birth registration by 2030.
"The digital dividend of this project offers a unique opportunity for Malawi to position itself as a modern state on the African map. Technology can be a tool to establish transparent systems and hence underpin reforms. What we are witnessing today is a milestone for Malawi since it holds transformative promise for the country," said Germann.
He believes that Malawi, a nation of 18 million people, would enjoy the tangible benefits that ID Cards bring.
"We invested in this project to see improved governance and an increased tax base by efficiently utilizing this system; to see e-health passports, giving instant access to patients' medical histories, saving time and lives; and to see improved access to justice and social protection becoming realistic goals to aspire to. The IDs are also expected to usher new opportunities to roll out targeted financial inclusion programmes," he said.
For many citizens to benefit from the card, establishment of linkages between the Identification System and government ministries is of paramount importance.
One crucial linkage already in place is that of between the identification system and the Malawi Electoral Commission.
"We are expecting that this will improve the integrity of the voters' register and, more importantly, reduce the total cost of the elections. The introduction of IDs should translate into significant cost-savings on the voter registration process and the overall election budget," said Germann.
The fruition of the initiative is a result of the strategic coalition of engagement and commitment between the government of Malawi, and its partners namely the UNDP, the European Union, United Kingdom, Ireland, Norway and the United States which together funded the project.
Malawi contributed 40 percent of the project cost while its development partners contributed the remaining 60 percent.