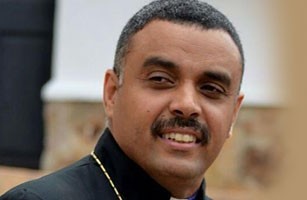 Adoley and her husband Mike (not their real names) attend one of Ghana's mega churches. Both are university graduates. She is a seamstress and owns a small retail shop. He is an accountant. The couple live with Mike's family, where Adoley sometimes feels she's blamed for the couple's childlessness after having three miscarriages.
When they visited our home in Accra one Sunday in December 2015, Adoley complained about a few things, such as Mike refusing to carry her handbag in church while she went to the bathroom, because – as he explained – "a man doesn't carry a woman's bag".
This anecdote points to a bigger story about the church in Africa today, and the messages that some of its influential male leaders promote about masculinity, marriage and gender roles in society more broadly.
Men of God are powerful
While churches in the economic north are emptying out those in the Global South – and especially Africa – are growing. Pentecostal and charismatic churches have mushroomed, many influenced by a wave of American-exported evangelicalism in the 1970s and 1980s.
Churches also carry out important social functions the state has neglected. They are involved in addressing HIV/AIDS, building hospitalsand establishing universities. This kind of work – sometimes called the "social gospel" – makes the church much more than simply a religious space. The modern African church promises a life that is abundant and prosperous – both spiritually and materially.
African church leaders – the bishops and archbishops, prophets and overseers, pastors and deacons, benignly referred to as "men of God" – are powerful. Their teachings have a wide reach that is not limited to Sunday mornings and mid-week services. There are TV and radio programmes, audiotapes and books, international branches and YouTube videos that reach a wide audience beyond their own congregations.
They are also influential voices on gender issues. Jesus' social gospel subverted gender cultures – and actively sought to challenge injustice in general. There are several examples of Christ's counter-culture behaviour when it comes to his relationship with women. Women were generally viewed as the cause of men's sexual sins. To prevent Jewish men from yielding to temptation, they were instructed not to speak to women in public, including their own wives. Not only did Jesus speak to a woman in public he dared to touch them in public.
These perspectives are not sufficiently evident in the messages preached from mega church platforms across the continent today. When it comes to the question of gender, injustice seems to have intensified in the church
Problematic messages
Much of the current discourse from church platforms in Africa focuses on marriage. Subjects include the breakdown of marriages, preparing women to be good wives, and the "unsuitability" of certain types of young women for marriage.
Archbishop Duncan Williams, founder of Ghana's Action Faith Chapel International, caused a stir in 2014 when he told women:
it's a privilege to be married… Sister when you get married, be thankful and stop misbehaving… It doesn't matter how pretty and beautiful and intelligent you are; until a man proposes to you, you are going to stay beautiful, pretty, intelligent, nice and whatever, and rotten.
Not long afterwards Bishop Dag Heward Mills, founder of Ghana's Lighthouse chapel, mocked Ghanaian girls for their inability to cook, saying that they were "less than 10% of what we want".
In his book Till Death Do Us Part, Bishop Charles Agyin-Asare, founder of one of Ghana's mega churches, responded to the issue of abuse in marriage, writing:
You are not the first woman to be beaten by your husband, and you will not be the last… Rise up with the Word of God and use your spiritual weapons… Keep going to church, listen to tapes, pray, notice the blessings around you, keep your vows.
Women, in this discourse, have no value outside of marriage. And they have no value within it beyond providing domestic services. Women carry the responsibility for keeping the marriage intact, even at the cost of their personal well-being and safety.
These pronouncements can have a profound impact on women's position in marriage and, given the importance of marriage in African cultures, on gender relations more broadly.
Brand of masculinity
The male gender, just like the female gender, is culturally constructed. And as the church defines and redefines the roles and positions of women in marriage and society, it does the same for men.
The church has always been a male-dominated institution. Beyond this, my research into the gender discourse of the Pentecostal and charismatic churches shows how they promote a particular brand of masculinity.
By "masculinity", I refer to "a cluster of norms, values, and behavioural patterns expressing explicit and implicit expectations of how men should act and represent themselves to others".
On the one hand, the brand of masculinity espoused by the "men of God" encourages behaviour that can be advantageous for many women in relationships: they generally eschew violence, advocate monogamy and companionship between spouses, and underscore the responsibilities of fathers and husbands.
On the other hand, the "Men of God" portray women as the "weaker sex" emotionally and intellectually, who need protection and guidance. Sometimes they emphasise women's "limitations". This leads to a devaluing of women, re-inscribing male domination and undermining female autonomy.
Different approach
Pre-martial counselling has been suggested as part of the problem. But, there are churches that foster a more gender-sensitive approach.
One is the Family Life Ministry at Calvary Baptist church in Accra. They work with a network of professionally trained lay counsellors across several churches in Accra to offer couples practical social and spiritual guidance using an alternative approach to "family life".
Gender issues are tackled from social, medical, legal and cultural perspectives. Couples are encouraged to see men and women as created equal in the image of God, and to see the development of their partners as a positive investment in their own lives, and those of their families and society.
Only when approaches like this become the norm will the church become a place where women as well as men, wives as well as husbands, the single as well as the married, can experience comfort, well-being and true freedom from bondage.
Until then, in our deeply religious context, we can expect some fraught gender relations at best, and many unhappy wives especially
Akosua Adomako Ampofo is  a professor of African Studies at University of Ghana
This article was first published by The Conversation and has been republished under the Creative Commons Licence.