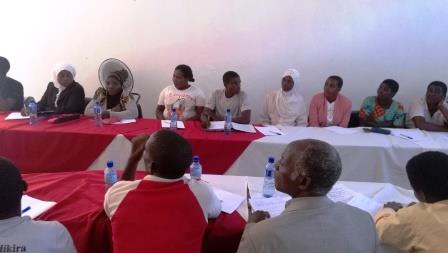 MULANJE, Malawi – Centre for Solutions Journalism (CSJNEWS), a human rights organisation, has described the Global Gag Rule as big blow to grassroot sexual and reproductive health initiatives in rural areas in southern Malawi.
CSJNEWS executive director Brian Ligomeka made the observation during a training workshop for rural-based Sexual and Reproductive Health and Rights (SHRH) champions from Mulanje on Monday.
He was responding to a complaint from the village activists who bemoaned the rise of maternal deaths in their areas due to inadequate services and information.
The rural champions attributed the problem to the scaling down of SRHR activities in their areas by some NGOs.
"It is pathetic to see expectant women struggling to travel to health centres when their time to deliver is near. Organisations which promised to give us bicycle ambulances have backtracked on their promises due to what they call funding challenges," complained Group Village Headwoman Tambala from the district.
In response to the complaint, Ligomeka said the problem of funding challenges was not strange because most organisations dealing with SRHR issues have been negatively affected by the Global Gag rule championed by the current US administration.
"Let's join hands in fighting for access to comprehensive sexual and reproductive health and rights so as to address maternal deaths which have several causes such as haemorrage, infections, high blood pressure and unsafe abortions, " he said.
On unsafe abortions, Ligomeka said the problem can, among others, be addressed through the enactment of the draft Termination of Pregnancy Bill which the Malawi Law Commission drafted.
"There are a lot of myths about abortions. But in rural areas, unsafe abortions are not about religion or culture. They are about the death of women and girls….This is a lesson we have learnt from here in Mulanje [in southern Malawi]," he said.
He added: "We are happy that some rural-based groups, traditional and religious leaders are campaigning for the enactment of the Termination of Pregnancy Bill openly."
According to Ligomeka, the sooner the Termination of Pregnancy Bill is enacted, the better, as that would save women and girls who are dying when seeking the service from quacks.
Ligomeka heaped praise on some cooperating partners like Safe Abortion Action Fund who still support SRHR projects in developing nations.
Speaking at the same training workshop, CSJNEWS Board Member Rev. Martin Kalimbe said rural-based SRHR champions should utilise the radio programme which Centre for Solutions Journalism has created.
"We are happy to announce that CSJNEWS through our partnership with award-winning Times Group, we have created a radio programme which will provide a platform to people to discuss Sexual and Reproductive Health issues," he said.
The programme titled Uchembere ndi Ufulu will be broadcast on Times Radio in Malawi on Thursdays from half-past four to five in the evening and rebroadcast on Sundays at half-past four in the evening.
Akwete Sande is a Communications Officer for Centre for Solutions Journalism