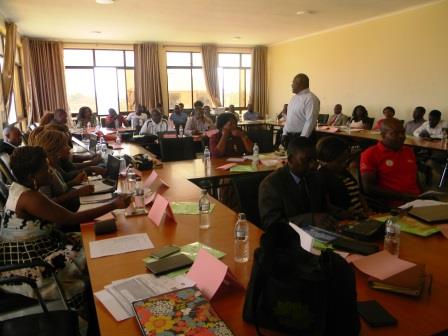 With over 45 civil society organisations backing the government proposal, Malawi has an opportune time to enact new abortion law, writes BRIAN LIGOMEKA
Good tidings! Unexpected but real! Over 45 civil society organisations (CSOs) have unanimously agreed to support the administration of  Malawi President Peter Mutharika in ensuring that Termination of Pregnancy Bill is enacted.
Oh yes, over 45 powerful CSOs have publically rallied their support for the draft bill which the Malawi Law Commission drafted two years ago and submitted to Ministries of Health and Justice for submission to Cabinet for scrutiny prior to enactment.
In case, someone is asking the question. What is the exact message the leaders of the CSOs who made at Mponela in central Malawi's district of Dowa on September 28?
Here is their exact message: "The next sitting of Parliament must debate and pass the Termination of Pregnancy Bill as proposed by Malawi Law Commission because the law was drafted through a very vigorous consultant process. All stakeholders were consulted and all sectors were present in the Special Law Commission; and all sectors agreed that this is the law Malawi should adopt.
"We repeat that there is no any other way of addressing deaths of women and girls due to unsafe abortions apart from having a good law on terminating of pregnancy."
If case you are asking what moved the CSOs to reach the consensus, the explanation is straightforward. They all appreciate the importance of saving women's lives who die due to pregnancy-related causes, including unsafe abortion.
In their own words, the CSOs explain their rationale for their position. "We note with deep concern that unsafe abortion remains one of the top five causes of maternal mortality and morbidity in Malawi where the most affected are poor women and girls.
"We know that through experts from World Health Organisation, United Nations, African Union, Gynaecologists and Obstetricians, Midwives, Human Rights Experts that there is no any other way of addressing unsafe abortion apart from providing safe abortion services to women and girls who need the services.
"We note that the current abortion related laws in Malawi are archaic and outdated and call for law reform and development of new and clear laws on abortion is meant to reflect and address the dire situation on the ground where women are dying as well as complying with international human rights norms,"
The CSOs further notes that Malawi already has good laws on human rights and is a shining example to the world when it comes to promotion and protection of human rights. The same should continue in promoting and protecting women's rights by changing Termination of Pregnancy Laws.
Our State President, Our Cabinet Ministers and Our Honourable Members of Parliament, I know that sometimes politicians fear the unknown when it comes to law reform. Some politicians have even been hoodwinked into thinking and believing that abortion is a controversial and decisive issue.  That's the myth championed by the conservative few. With about 141,000 women in Malawi annually procuring unsafe abortions, there is no way abortion can be  described as controversial. If anything, abortion is a genuine sexual and reproductive issue. It is a public health and human rights issue.
There is absolutely nothing to fear about passing new abortion law. Our neighbours, Zambians, Mozambicans and South Africans reformed their abortion laws; and no MP, no Cabinet, no President lost their position for supporting abortion law reform.
The good news about Malawi's Termination of Pregnancy Bill is that it was drafted by almost all concerned parties. The Special Law Commission on Review of Termination of Pregnancy Laws consisted of representatives from Government, Civil Society Organisations, Chiefs, Episcopal Conference of Malawi, all other churches under Malawi Council Churches and Muslim Association of Malawi. Together they proposed a bill on Termination of Pregnancy, so it is a piece of legislation arrived at by consensus.
In case you are asking: What are the major highlights of the proposed law of abortion law? Here is the truth.
The proposed law still criminalises or restricts abortion in Malawi.
The proposed law will not accept provision of abortion on demand
While still criminalised or restricted, the proposed law says abortion will only be provided on four grounds which are:
(a) when the continued pregnancy will endanger the life of the pregnant woman;
(b) when termination is necessary to prevent injury to the physical or mental health of the pregnant woman;
(c) when there is a severe malformation of the foetus, which will affect its viability or compatibility with life; and
(d) when the pregnancy is a result of rape, incest, or defilement.
The above reasonable grounds are the ones which are in the proposed Termination of Pregnancy Bill, which the CSOs have also endorsed and have expressed their commitment to support the government to ensure that the bill is passed.