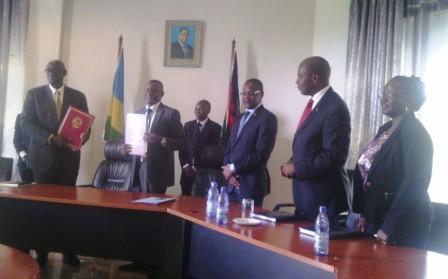 A new bilateral treaty empowers Malawi to extradite Rwandan genocide suspects, GLADYS KAMAKANDA of Malawi News Agency writes
Malawi -which in the past was struggling to extradite Rwandan genocide suspects-  will now be finding it easy to do so.
The move comes after the governments of Malawi and Rwanda Thursday signed the Extradition Treaty, the transfer of Convicted Persons, and the Memorandum of Understanding (MoU) last Thursday.
Speaking in Lilongwe, Malawi's Foreign Affairs Minister Francis Kasaila said the treaty would go a long way to resolve the difficulties which had been there between Malawi and Rwanda, in as far as matters of extradition of nationals who are in conflict with the law in the two countries are concerned.
"We don't take for granted the effort taken by Rwanda, to end a delegation to travel back to Malawi just a few days after the discussion was concluded. This shows the extent to which the Government of Rwanda is committed to the cooperation with Malawi," said Kasaila.
He said this is a strong sign that the two countries are fully committed to strengthen their bilateral cooperation and ties in various sectors.
Kasaila therefore promised to work hard to conclude and implement the numerous area of cooperation so that the aspirations of the peoples of the two countries under this bilateral framework are realized.
Rwanda's Justice Minister Johnston Busingye said the agreement between the two nations was very important.
"Sometimes you have a Rwandan citizen who commits an offence in Rwanda and is one day found on Malawian territory, sometimes you have the Malawian citizen commits an offence in Malawi and are found on Rwandan territory. In order for both countries to do justice it is always important to have a framework for doing that justice," explained Busingye.
He said the agreement between the two countries means that Rwanda can send a Malawian citizen back to Malawi to stand justice in court if they have committed an offence in Malawi and they are found in Rwanda.
Genocide suspects
The treaty between the two nations might see some Rwandans suspected of involvement in genocide extradited to their home country.
Recently a court in Malawi blocked the government from extraditing a Rwanda genocide suspect Vincent Murekezi on the ground that the two African nations had no bilateral extradition treaty.
Despite acknowledging that genocide was an extraditable offense, the court observed that Rwanda was not a designated country for extradition, and that made it impossible for Malawi to extradite Murekezi.
The suspected fugitive offender has lived in Malawi since 2003 and managed to acquire Malawi citizenship.
Extradition battles
In Africa, extradition battles take years to end. A number of criminal suspects are living in foreign capitals as legal cases to have them extradited take years to be concluded.
In a typical case, South Africa has over the past six years failed to extradite a Malawian businessman Misozi Chanthunya, who is a murder suspect in his home country.
Chanthunya has on several occasions prevented the South African government from surrendering him to Malawi through extraditions.
He is currently remanded at the Kgosi Mampuru Prison in Pretoria, South Africa.
Chanthunya fled Malawi in 2010 following the murder of his pregnant girlfriend, Linda Gasa, who was allegedly poisoned and then stabbed repeatedly.
Gasa was last seen in Chanthunya's company, according to the 2012 judgment in his extradition case.
Police in Malawi found her buried under the freshly cemented floor of Chanthunya's cottage in eastern Malawi's resort district of Mangochi.
Chanthunya does not want to be extradited because Malawi still has capital punishment its statute book and South African law prohibits the extradition of murder suspects to countries that allow death penalty.
Despite Malawi having capital punishment on its statute, the government has not been executing murder convicts since 1994. All those convicted of capital offences are jailed for life.