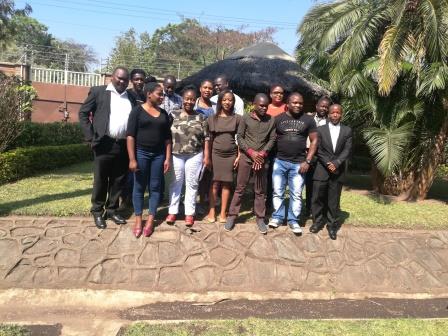 As Malawi plans to conduct a public inquiry on Lesbian, Gays, Bisexuals, Transgender and Intersex (LGBTI) citizens, two local human rights organisations have urged the southern African nation to tread carefully and respect minority rights.
Centre for Solutions Journalism (CSJ) and Centre for Development of the People (CEDEP) made the call in Malawi's second city of Blantyre during LGBTI reporting workshop for media practitioners.
CSJ Board Chairperson Rev. Fr. Martin Kalimbe said the government should not pay a blind eye to the challenges which minority groups like LGBTI citizens, sex workers, prisoners and even the elderly face.
"Let every citizen enjoy all human rights without discrimination….The HIV and AIDS pandemic makes it necessary that no one, absolutely no one should be left behind. Every citizen regardless of their sex, race, gender, occupation and sexual orientation needs to be included in the fight against the pandemic," he said.
According to Kalimbe, it does not make sense to declare that all Malawians are born free and equal when some quarters are using outdated sodomy colonial laws to exclude certain groups from enjoying human rights including access to health.
Explaining why he as a priest decided to fight for human rights Fr. Kalimbe had this to say: "I know some of you are wondering why I, an ordained priest, a man of God, a religious cleric, am part of the an organization that advocate for respect for human rights. My answer is simple. The Almighty God loves all of us."
He added: "Every human being enjoys God's love. When it rains, it rains for all the people. When the Sun shines, it shines for all the people. That's how great the love of the Almighty God is.  The Bible clearly teaches all of us about love and not hate. The Bible teaches us about compassion and not condemnation."
On his part, the key facilitator during the workshop Dunker Kamba from CEDEP said the media has an important role to play in promoting human rights.
Kamba bemoaned that LGBTI citizens continue to suffer in silence from various human rights violations.
"It is important also to note that the vast majority of rights violations on the basis of sexual orientation and gender identity go unreported because of homophobia, self-stigma, and fear of being exposed, or outed," he said.
Kamba explained that the rights violations are perpetrated by family members, community members and public officers.
"It is also happening in religious and employment sectors," he said.
As a result of prevailing homophobia, Kamba pointed out that several studies demonstrate high prevalence of risky behaviors amongst LGBTI communities.
"One study showed that the prevalence rate of HIV transmission amongst LGBTI citizens or what in Malawi is known as men who have sex with men is about 17 percent," he said.
This is against Malawi's national HIV prevalence rate of about 9 percent.
Speaking at the same media workshop CSJ executive director Brian Ligomeka said the workshop was organized to empower journalists with knowledge on how they can report on LGBTI issues.
"There are issues our society regard as taboos and it is important for the media practitioners to have skills and knowledge on how to cover them, LGBTI issues are just one of them" he said.
Ligomeka added: "We need to contribute to address the root causes of intolerance and violence against LGBTI people. If public opinion is hostile towards LGBTI people, we have the responsibility to raise awareness of diversity and respect for all persons' sexual orientation and gender identity."
According to Ligomeka, the media should be condemning violations of human rights that affect anyone.
"The media should actively report on all cases of violence against all the people so that authorities can investigate them and prosecute the perpetrators,"
CSJ, with financial support from The Other Foundation, is running media fellowships programme in Malawi.