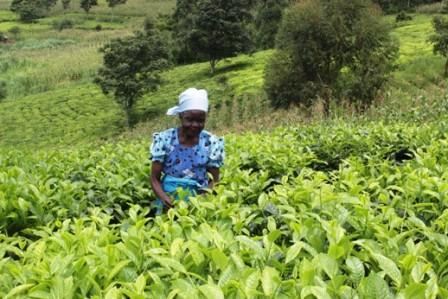 Poor farmers in Malawi are turning to urine to improve their yields. Malawi News Agency's SOLISTER MOGHA writes
She is in her early 80s but still strong to cultivate for her survival.  Alife Gwaza is one such an admirable old woman whose life if emulated could help to bring change to some quarters of our society.
Born in 1936, Gwaza has 9 grandchildren from her six children.
She is a primary school dropout but a well-known farmer in Ngomani Village, southern Malawi's district of Thyolo. She said ever since she was born, farming has been her life.
Even before she got married some 40 years ago her family was into serious farming. Today Gwaza, who, if not for her hardworking spirit could have been a renowned street beggar, but now she lives a happy life.
She owns 3 hectares of land of which one hectare has a tea plantation while the remaining two is where she grows her maize every year for food.
However for the many years she has been doing her farming, Gwaza says very little was realised.
One of the biggest challenges she noted and contributed to her poor yield is lack of finances to purchase farm inputs especially fertilizer to apply on her infertile land.
Though some tea estate companies within the area offered her an opportunity to get fertilizer on credit, her income was a major threat. Gwaza could only get few bags and split them for her tea and maize garden.
"You can imagine that as big as the farm is but I could only afford two bags of fertilizer. This was far beyond what is recommended and no wonders I had a poor yield every year," she explained.
The many challenges, Gwaza faced never weakened her hardworking spirit, she stayed focused and never allowed herself to jump into the streets as some of her age does.
"I feel so sorry for some people particularly men of my age who have abandoned their fields and are busy asking for help in the streets. We need to change that altitude and teach our children and grandchildren that hardworking pays and that the only way we can develop this nation is by playing our meaningful and productive roles," Gwaza suggested, emphasizing that, no matter how troubled she will be, but never will she stretch her hands in the street.
Malawi is an agro based country, with most of its people being farmers. However, the country's farming system leaves a lot to be desired as it is far away from reach.
To register success, there is a lot that needs to be done starting with the farmers themselves.
Among others, there is need for easy access and provision of farm inputs, presence of readily available markets of agricultural produce and introduction of the mechanized system of farming replacing the colonial or hoe system.
Though the Malawi government is trying to change the whole agricultural system by among others, running the green belt initiative, introducing fertilizer subsidy programme that is benefiting a few poor Malawians and advocating for a mechanized farming through the purchase of tractors, it is just a drop in the lake.
For the first time, Gwaza expects a bumper yield this year, as she hope to harvest over 100 bags of maize and 2,600 Kgs of tea all courtesy of her urine which she had harvested for almost two weeks.
She said early last year an organization called Cooperative Enterprise Pathways for Economic and Environmental Sustainability in Malawi Project (CEPEESM) that works with cooperatives in the country organized a manure making training which she attended by sending her child.
"I belong to Mtendere tea growers cooperative and when I heard about the training and coupled with the challenges I was facing I did not hesitate but send my son since I could not walk. Through the training, I knew that God has answered my prayer," She narrated.
During the training, cooperative members were told to make organic fertilizer by mixing 10 kilogrammes of ashes, 20 kilogrammes dung, and 20 kilogrammes of maize bran and 5liters of water.
However for a finished process, 5 kgs of Urea or 5litres of urine and 5kgs NPK is required to be added to come up with the two different types of fertilizers.
Gwaza only had $4 to buy 5kgs of NPK but since she was supposed to make Urea fertilizer she opted to use her Urine.
"During the training, my friends were told that in case they don't have money to purchase Urea chemical fertilizer, they can use urine (harvested in the morning) to add on the samples.
"I said to myself I am the Urea for my farm so I had to urinate every morning until the required amounts were reached. Using the urine I managed to make 8 bags of Urea and NPK which I applied in my field," she expalined.
The fertilizer which is gaining popularity and known by many as Mbeya fertilizer could be an answer to many Malawian farmers if well publicized and utilized.
According to Malawi's Department of Agriculture, organic fertilizer is regarded important as it released its nutrients slower and consistently than that of chemical and deters the likelihood of a boom-and-bust pattern.
A researcher at Chitedze Agriculture Research Station, Dr Kesbel Kaonga said by applying organic fertilizer, soil nutrients that are already on the grounds are mobilized, which wastes much less while lowering the density of nutrients.
He said organic fertilizers make the soil moisture optimal and this reduces moisture stress and benefit the crop growth and the fertilizer also prevents soil erosion.
"In Malawi, application of organic manure is done in a small scale but there are more benefits if implemented and one of them being that organic fertilizer improves soil structure," Dr Konga said.
Project Manager for Cooperative Enterprise Pathways for Economic and Environmental Sustainability in Malawi Project (CEPEESM), John Mulangeni said the aim of training farmers in manure making was to cut short of their expenses and improve harvest.
He said the project has four components and one such component is environmental sustainability and waste management where he said the manure making skills and training was delivering from.
"We believe in empowering the poor by among other things providing them with skills that will bring change in their lives. As CEPEESM we noted that many members of our cooperatives were struggling to manage their agriculture systems particularly because they could not afford the fertilizer for their fields," Mulangeni added.
CEPEESM is a successor project of support cooperative Malawi programme funded by the Scottish government.
National Coordinator for Malawi Federation of Cooperatives (MAFECO) Charles Kayesa, a mother body of all cooperative unions in Malawi commended CEPEESM for carrying out programmes that benefited cooperative members.
"I am greatly impressed with what I have seen here, Malawians can now bid farewell to chemical fertilizer. As a country we can now save huge sums of money that were being channeled for subsidy programe," he said.
Gwaza expect to have as many bags as possible this year some of which she will sale to those in need of the fertilizer.