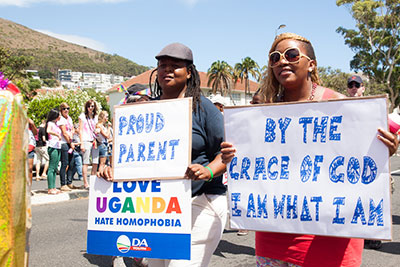 Human rights activists in Malawi are gearing up to raise awareness against homophobia through various public activities to be conducted on the International Day against Homophobia and Transphobia.
Centre for the Development of People (CEDEP), a minority rights campaign group said they have decided to celebrate the day which falls on May 17 to raise awareness of the rights of members of the Lesbian, Gay, Bisexual, Transgender and Intersex (LGBTI) community.
CEDEP said discrimination against people based on their gender and sexual orientation was unacceptable, and hence the need to fight homophobia.
The human rights body has lined up a number of activities meant to raise awareness on the negative impact of violence against members of the LGBTI community.
CEDEP's communications officer, Simeon Thodi told the Malawi News Agency (Mana) that prior to the day, a number of activities will be held in order to help in raising awareness on the violations being faced by the LGBTI community which include prohibitive access to health services, justice and physical violence among others.
"We have organised talent shows, Miss and Mr Diversity beauty contest and a platform to share to the public of the sufferings encountered by the LGBTI community as one way of raising self esteem among the community members," explained Thodi.
According to Thodi, by the end of the day, the aim of all these activities will be to reduce the human rights violations being suffered by the LGBTI community by fostering togetherness.
In Malawi, the LGBTI community continues to have their rights violated due to religion, culture and criminalization of same sex relationships.
This year, the awareness against homophobia and transphobia is being commemorated under the theme "love makes families" which emphasizes on how the same love which is the basis of families and harmony is causing part of the society to suffer when they express it differently like in the case of the LGBTI community.
The challenge
Despite suspending laws on homosexuality which criminalises homosexuality in Malawi through a moratorium, LBGTI citizens in Malawi continue to face ridicule and religious bigotry in accessing various services including medical treatment.
A 30-year-old man who only preferred to be identified as Jozy told CSJNEWS that recently he went to a clinic to seek medical assistance and was completely shocked with the humiliation he suffered.
"During diagnosis, the health worker asked me if I was gay. When I confessed that I was indeed gay, the health worker began preaching to me that I should confess my sins.
"What baffled me most was his decision to call his fellow workers to see me. Some of his colleagues openly told me in my face that I did not deserve medical treatment because I was a fool." Jozy explained.
"I felt humiliated to be insulted in that way just because of my sexual orientation in a country where the Constitution says all the people are equal," he said.
According to CEDEP, there are many cases of LGBTI Malawians who complain of maltreatment at the health centers and clinics.
Root cause
Several researches have indicated that LGBTI people face many forms of discrimination.
"The greatest obstacle to the full acceptance of LGBTI people in southern Africa is religiously sanctioned homophobia," a recent report published by The Other Foundation reads in part.
According to the report, Christianity in southern Africa, is "largely unreceptive to progress on social issues such as women's empowerment, gender diversity and advances in the understanding of human sexuality."
Titled Silent No Longer: Narratives of Engagement between LGBTI groups and the churches in southern Africa, authored by Dr Masiiwa Ragies Gunda, the report explains how religion continues sanction homophobia.
Gunda observes that the arguments usually advanced by religious groups to reinforce homophobia are a "functional" approach to sexuality; "a mythology of the purity of African traditional cultures" and, related, the notion of sexual diversity as a colonial import.
"In many parts of southern Africa, denouncing 'gayism' is a reliable way to whip up popular support or distract attention from governance failures," notes Gunda.
Solutions
In order to address the challenges which LGBTI citizens face in Malawi, CEDEP and its partners have embarked on a training of health workers in Malawi on how to handle the health needs of sexual minorities.
One a health worker in HIV Testing and Counseling within the Sexual Transmitted Infections (STI) Department at Bwaila Hospital in Lilongwe disclosed that the CEDEP programmes have since softened some of the stigma of treating LGBT patients.
"There are indeed many sexual minorities who come to the hospital for treatment. We now treat then without stigma and accept them as anyone else," he said.
Centre for Solutions Journalism executive director Brian Ligomeka praised CEDEP for the commendable work it is doing in raising awareness on the need to respect minority rights.
"Time is due that as citizens we should accept that people are born different. There have been occasions when children from one family are completely different. One can be a very humble, calm and composed person and yet another one can be a noisy and highly emotional character.
"In the same way, the same family can give birth to a dipsomaniac who cannot spend a day without drinking alcohol and yet another blood relation from the same family can be a teetotaler who even hates the smell of beer. These are realities of life. We have different personalities, different habits and different sexual orientations. What we need is to respect each other instead of poking our noses into private affairs which consenting adults make in their bedrooms. All citizens – be it monogamists, polygamists, the celibate, the heterosexuals, the homosexuals and the bisexuals – should enjoy their human rights," he said.