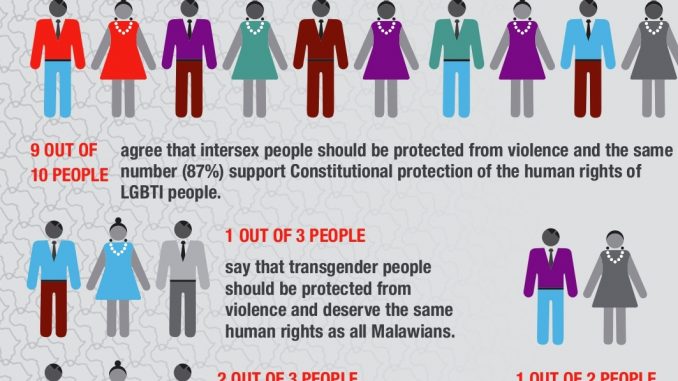 A human rights organisation, Nyasa Rainbow Alliance (NRA), has urged the government to repeal outdated same-sex laws,responsible for perpetrating discrimination, harassment and violence against sexual and gender minorities.
The Alliance has made the call in a press statement released at a media briefing in Blantyre on Friday.
According to NRA, Sections 153, 154 and 156 that criminalise same sex relations between consenting adults in private should be relegated to the history books.
"This Section 153 makes vague reference to 'carnal knowledge against the order of nature' and 'gross indecency', and we feel it is used to justify violence against LGBTIQ (Lesbians, Gays, Bisexuals, Transgender, Intersex and Queer) persons in Malawi. LGBTIQ persons continue to experience harassment, arbitrary arrests, discrimination, and denial of health and social services, among other human rights violations, that hinder their social and
economic development,|" reads the release in part.
The statement observes that in as much as Section 153 of the Penal Code prohibits any person from indulging in sexual intercourse against the order of nature, the act which includes oral-genital and anal-genital intercourse, it is only the LGBTIQ community, which this law targets. 
"This is irrespective of the fact that persons of opposite sex (heterosexuals), including those in lawful marriages practice oral and anal sex freely, but they do not get arrested for contravening Section 153 of the Penal Code," the release read.
The Alliance states it was sad that the government and some citizens continue to use culture, tradition and religion to justify the denial of basic rights to sexual and gender minorities.
"It is clear, therefore, that Malawi's anti-homosexuality law does not only contravene rights and fundamental freedoms enshrined in the Constitution of Malawi, but also those under regional and international human rights treaties which Malawi has ratified,including the African Charter on Human and People's Rights, the International Covenant on Civil and Political Rights (ICCPR), and the International Covenant on Economic, Social and Cultural Rights (ICESCR)," reads the media release.
The organisation said that, the way in which adults lead their lives, including consensual relationships in the privacy of their own homes should never be a matter for state interference.
In a related development the Constitutional Court of Malawi has been asked to interpret Section 153 (c) of the Penal Code of Malawi, which criminalises consensual same-sex relations between two consenting adults. 
The case follows an application by Jana Gonani, a transgender woman, who was convicted in December 2021 by the Mangochi Senior Magistrate Court on the charge of unnatural offense contrary to Section 153 (c) of the Penal Code.
The court convicted Gonani for wilfully and unlawfully permitting a male person to have sexual intercourse with him against the order of nature. 
A victory in the case, where Gonani's lawyers have moved the Constitutional Court to declare the anti-homosexuality legislation unconstitutional, may decriminalise same sex relations.
Despite attaining its independence in 1964, Malawi maintains a number of colonial laws which many progressive nations have repealed.